Liver Mush is a local dish of the Carolina`s. It is sometimes called poor man`s pate. Its served on sandwiches with a good mustard and some mayo or pan fried and served with eggs for breakfast. You either love it or hate it. To me, its great stuff. Can`t buy it where I live now cause its rare as hen`s teeth and when you mention it to the grocer they just give you a funny look. But in God`s country, its a staple. The flavor is pretty good with a hint of liver that is toned down by the other meat and the sweetness of the corn meal but then a bite of pepper. Since I can only find it when I visit my mom I took it on myself to try and replicated what I grew up on. In my search for hints on how to make it I read that it was a very local dish found mostly in the Carolina's. If this is correct, then I thought some of you might want to give it a try. This recipe is pretty close and a far cry from what I found on the net. Maybe someone will find it as good as I do.
8.5 lbs of fatty pork & liver about 50/50
7 cups cornmeal - reserve 2 cups
4 tsp Sage
2 TBS salt
1 TBS Black Pepper
1 TBS Onion Powder
2 tsp red pepper
2 tsp Garlic Powder
1 TBS crushed red pepper
Boil meat till tender in enough water to cover.
Remove meat from pot and reserve broth.
Grind meat through grinder - smallest plate.
Mix all spices and 5 cups of cornmeal to the meat. Add enough broth to make a good slurry.
Heat in pot on low temp and stir often to keep it from sticking and scorching. Reduce it down till the cornmeal is cooked and the slurry begins to thicken.
I add more cornmeal at this point to thicken it till it`s a gummy tight mixture. Test seaonings. When its good and thick, put the paste in containers and refrigerate overnight.
Simmering in the pot to reduce some of the broth and cook the cornmeal.
Placed in molds for refrigeration. When spooning it, it should be sticky and not runny.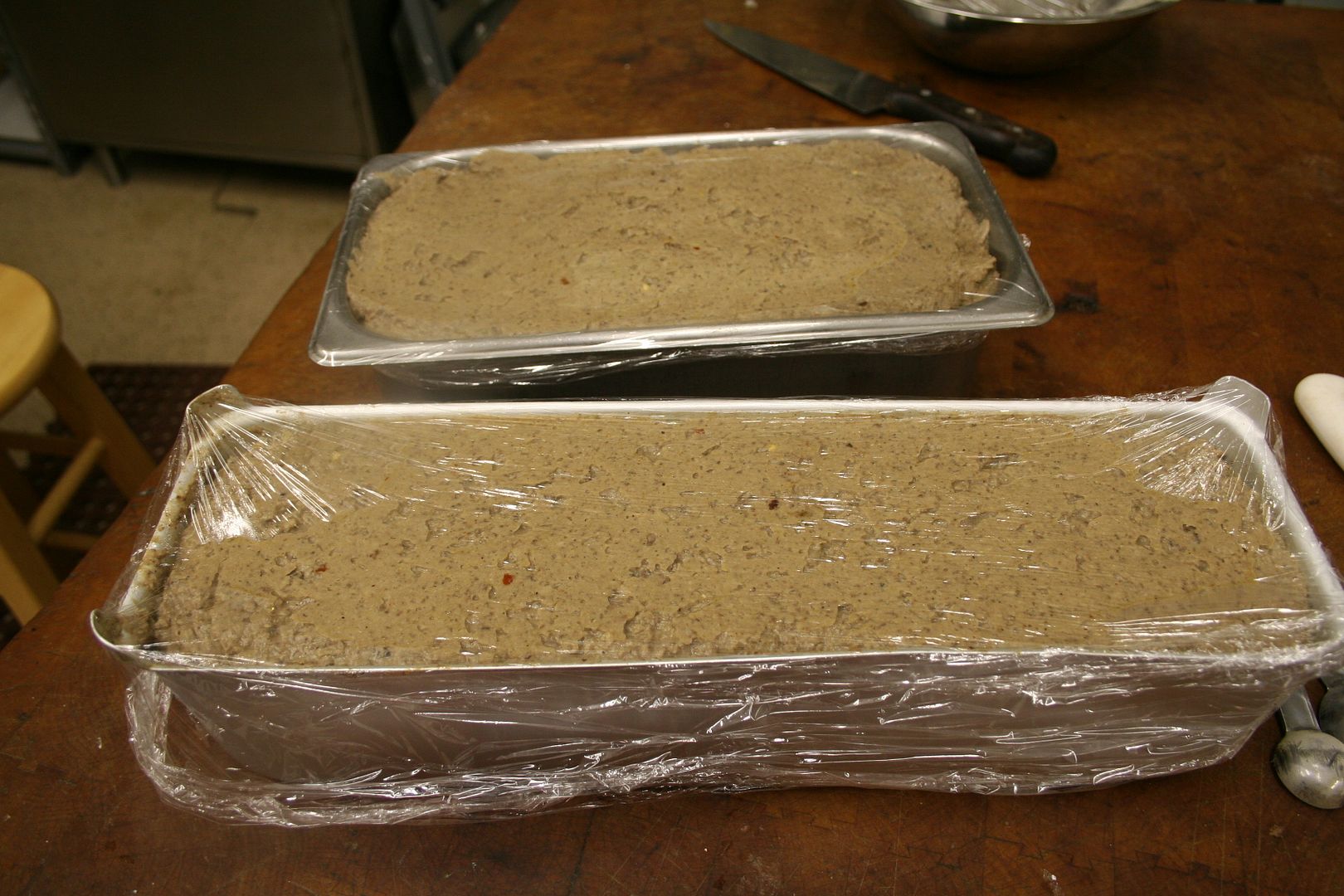 Will update tomorrow with a finished picture.