I've posted recipes for these before but I think I have made this one better. This is for two sausages, one is the blood and tongue sausage (Blut-Zungenwurst) and the other is for tongue headcheese (Zungen-Sulze). They both use the beef tongue and the pork snouts/hocks but then the recipes differ. Here's what I did:
1st, I contacted Ross Hill since he is the expert in low salt brining cures and came up with the following: (I also consulted with Chuckwagon to ascertain how much cure to add to the final product after the curing was completed).
Beef Tongue 10 lbs
Pork Snouts 2.25 lbs
Porks hocks with skin on 2.0 lbs
I made up a brine consisting of the following:
Salt 2% 4.56oz
Water 40 % 91.2 oz
Cure #1 @ 4.2 oz/Gal (as per the Marianski book) = 2.99 oz
Table sugar @ 1.5 oz/Gal = 1.07 oz
The above was heated until the salt and sugar dissolved and then cooled down in the fridge. Then, the cure #1 was added. I then injected the tongues using a turkey injection syringe to about 10% of the tongue weight. The injected tongues were added to a ziplock bag along with the pork snouts and hocks and the remainder of the brine was added. It was then placed in the fridge for 7 days at 36°F.
After 7 days, here's a look at the bag:
I then rinsed the tongues and hocks/snouts in cold water briefly and then placed them in a large stock pot with chopped celery, onions and carrots along with a healthy heaping of pickling spices tied in cheesecloth: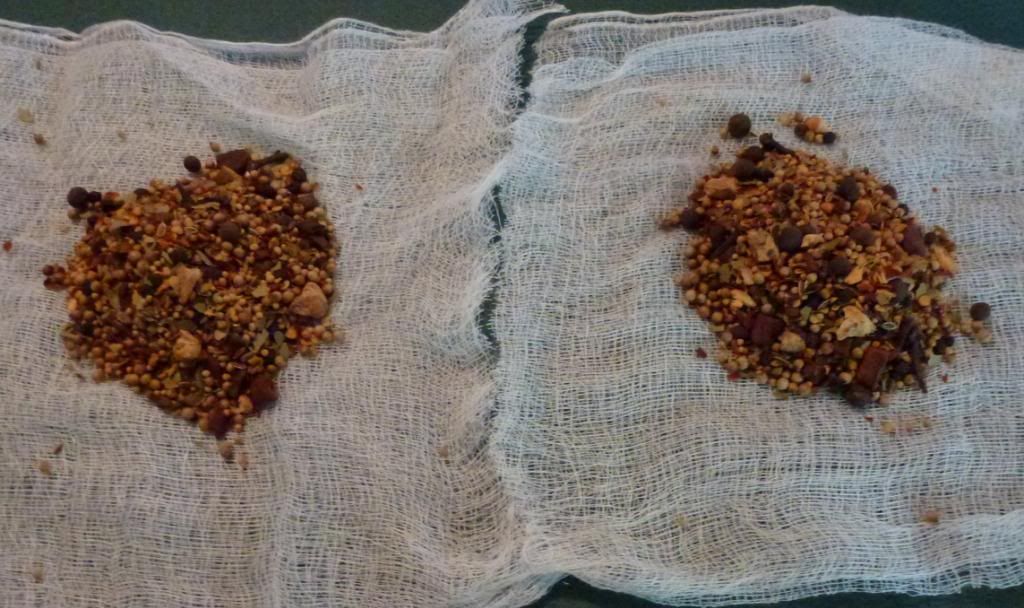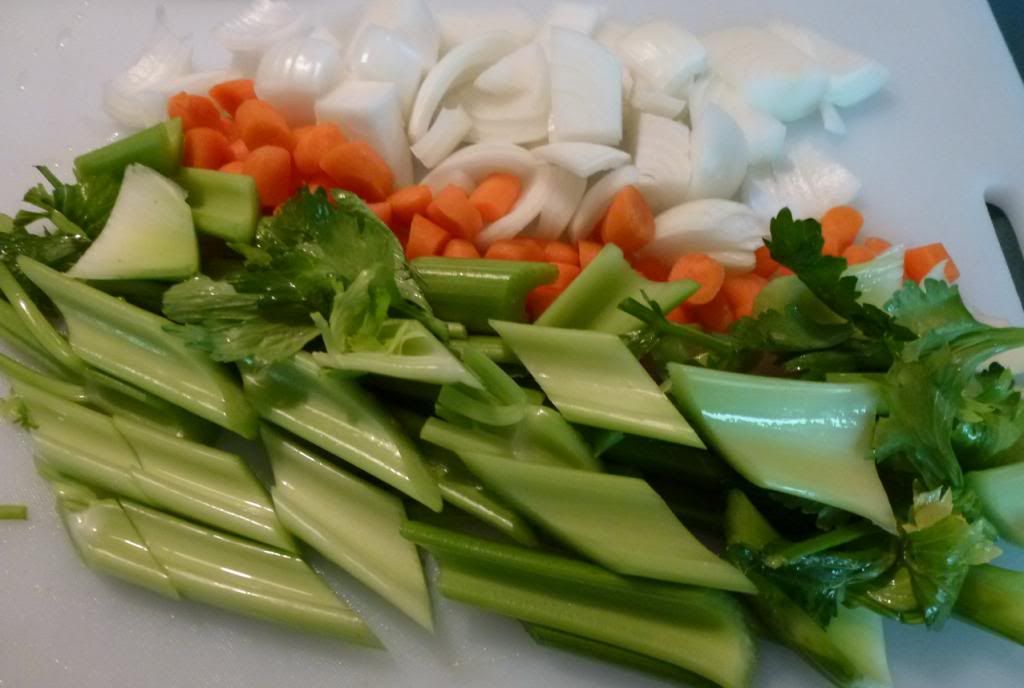 I added enough water to cover everything and brought it up to a boil and then lowered it to a simmer for 3 hours.
After 3 hours, the tongues were very easy to peel as shown here after peeling and chopping:
The above cooking liquid was cooled down and saved. I skimmed the fat off the top. OK, now for the two separate recipes. 1st the blood and tongue:
Blut-Zungenwurst
Beef tongue, cooked (see above), and chopped to desired size 1392g
Pork butt, ground fine 1976g
Pork snouts and hocks, cooked, deboned and ground 423g
Fresh or frozen pork blood 794g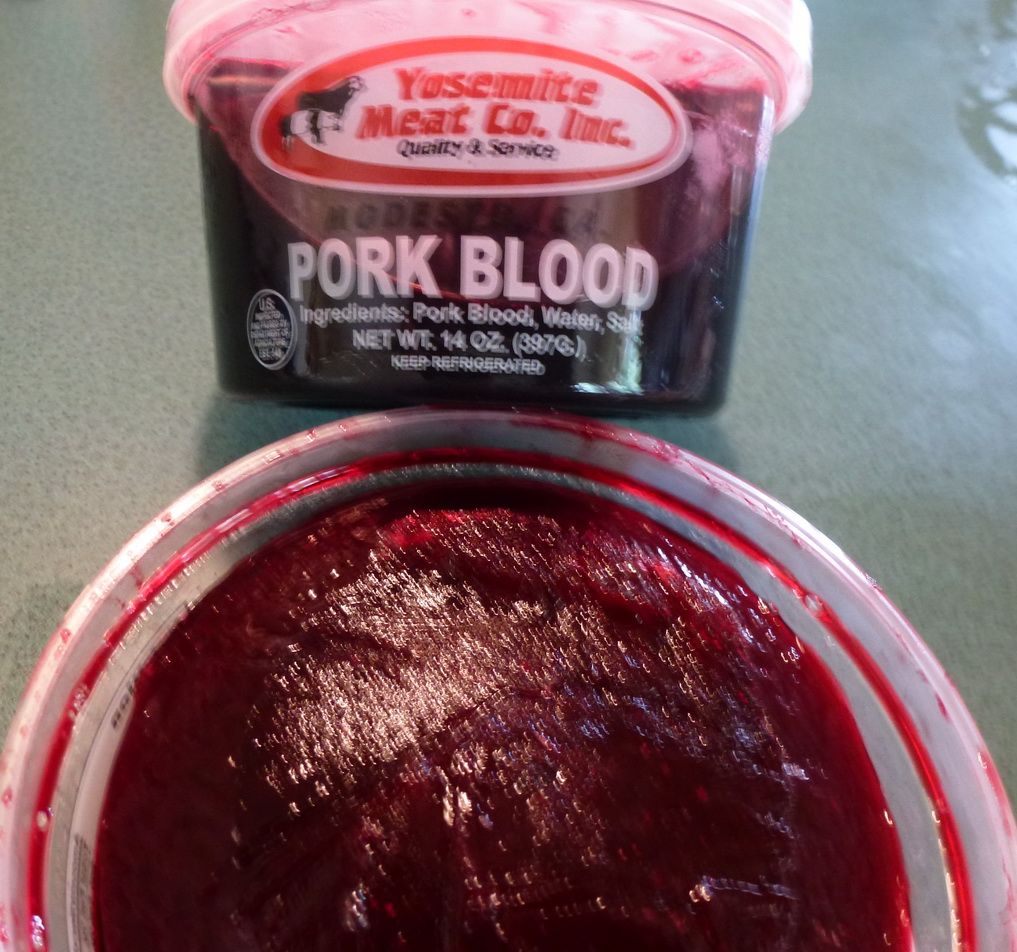 Pork back fat, cubed to 1/8 to 1/4" size and scalded in hot water
for 5 minutes to prevent blood discoloration 2.5% 113.5g
Onion powder 0.3% 13.8g
Salt 1.0% 45.9g
Cure #1 0.265% 12.2g
Black pepper, ground 0.2% 9.2g
Caraway, ground 0.1% 4.6g
Marjoram 0.4% 18.3g
Allspice 0.15% 6.9g
MSG 0.28% 12.8g
B&P Meat binder (phosphates) 0.55% 25.2g
275 Bloom gelatin (from B&P) 0.75% 34.4g
Grind the cooked and cold pork snouts, de-boned hocks, skin and pork butt through 3mm plate. Then add the almost frozed blood and all the spices and mix well. Next, working in batches, add to food processor to emulsify (takes about 1.5 minutes per batch). In my case, I can process about 1.5 lbs per batch.
(Ready to emulsify in food processor):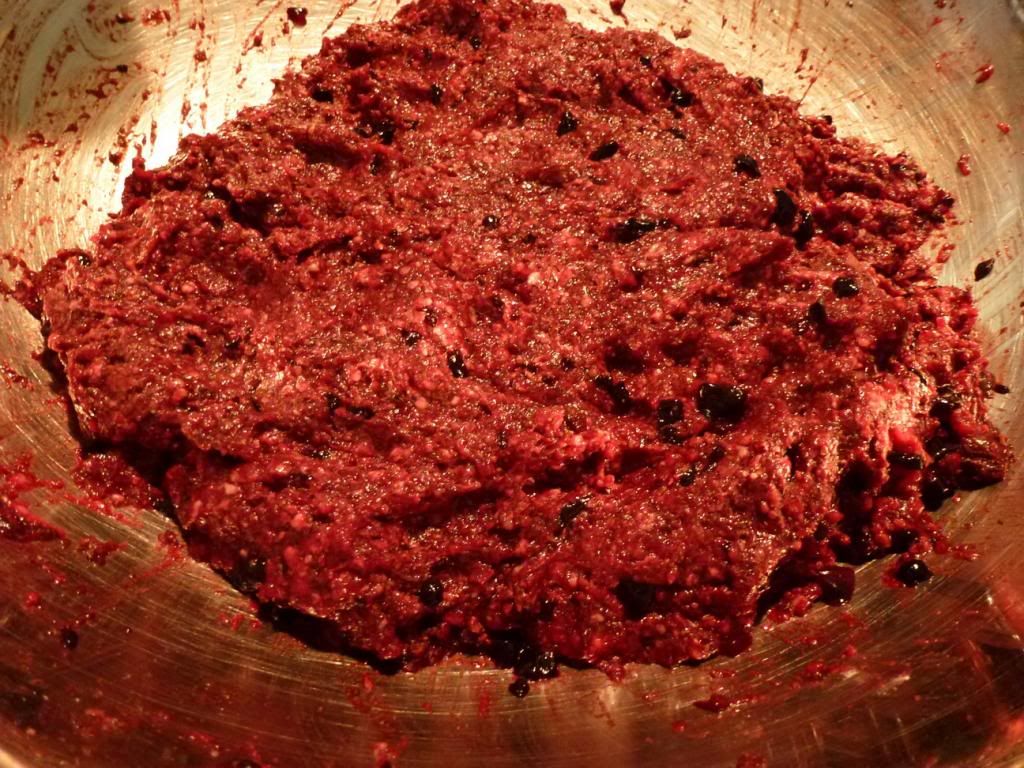 Next, add emulsified mix from above to chopped up and cooked tongue and stuff into waterproof casings. I used 8" wide Ziplock brand vacuum sealer bags.
Cook in 160°F water for 2 hours or until internal temperature reaches 152°F.
9 pounds of finished, sliced sausage: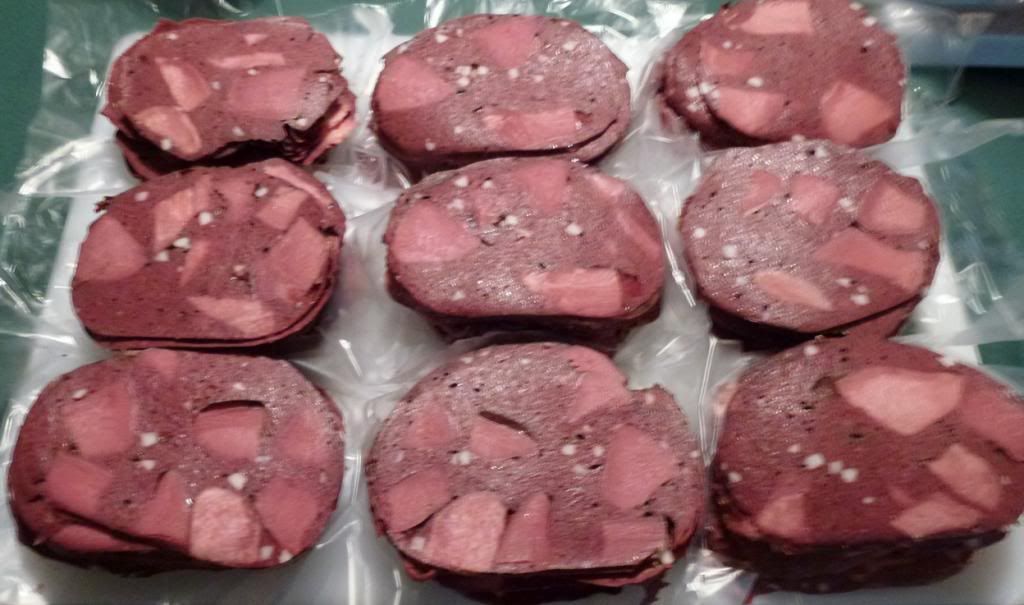 OK, here's the 2nd recipe, this time for Head Cheese with beef tongue and pickles:
Zungen-Sulze
Cooked, chopped beef tongue from above 1392g
Pork snouts, hocks with skin, cooked and ground 848g
Broth from cooking the tongues and snouts/hocks 25% 560g
White vinegar 280ml
(this resulted in a pH of 3.24 but will increase after adding
meats. The finished sausage had a pH of 5.15)
Dextrose 0.8% 17.9g
White pepper, ground 0.4% 9.0g
Onion powder 0.3% 6.7g
Garlic powder 0.2% 4.5g
MSG 0.28% 6.3g
Marjoram 0.4% 9.0g
Clove, ground 0.02% 0.5g
Coriander, ground 0.02% 0.5g
Allspice 0.15% 3.4g
Italian style dill pickles, diced 10% 224g
Here's the pickles I used, from Walmart. They have a nice taste without being too sour: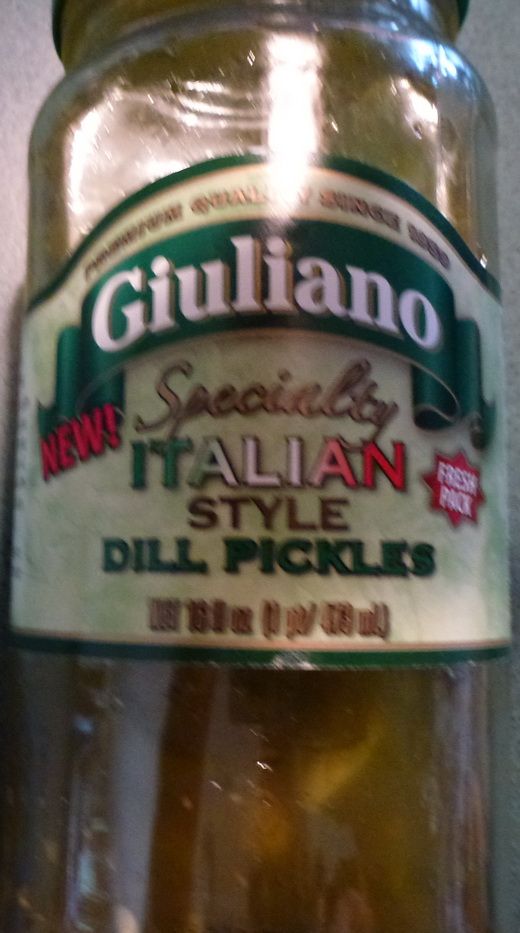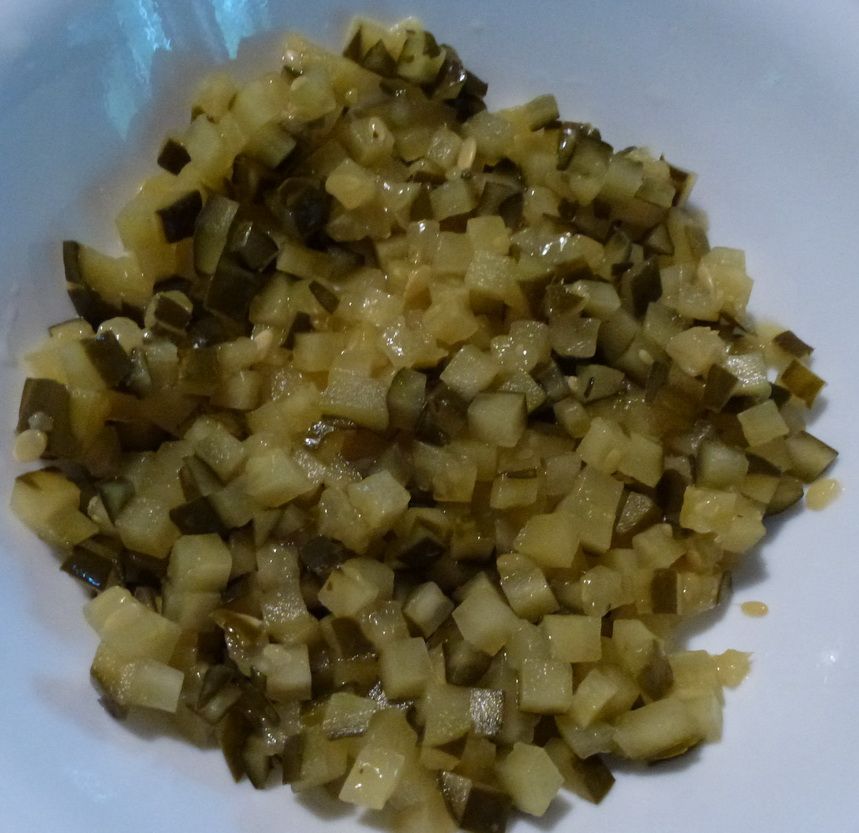 Cure #1 0.265% 5.9g
275 Bloom gelatin (from B&P) 5% of broth = 45g
Knorr vegetable base concentrate 30 ml
Grind the cooked pork snouts/hocks/skin using the finest plate (3mm or smaller), then mix all spices broth, vinegar and chopped tongue. Stuff into waterproof casings similar to previous recipe. Simmer in 160°F water for 2 hours or until internal temperature reaches 152°F. Allow to fully cool in refrigerator overnight before slicing.
A bit over 6 pounds of head cheese:
* B&P refers to Butcher and Packer (
http://www.butcher-packer.com/
)