I'm not exactly a fan of liverwurst unless it is exceptionally good and wasn't planning on posting this recipe except that it happened to turn out really good. I've had rave reviews from several liverwurst connoisseurs so I decided I should maybe post what I did. So here you go:
My local favorite grocery store with an in-house meat department (one that still grinds their beef and pork fresh every day) was having a sale on 80/20 ground beef. Plus they had fresh beef liver on sale. A light bulb went on and I figured I could make an all beef liverwurst. Well, almost, since I added pork backfat to up the fat content since I didn't have beef fat on hand. (If you want to keep it Kosher, use beef fat to increase the fat).
Recipe:
80/20 ground beef 4.7 lbs 2133 g
Beef fat (I used pork back fat) 1.09 lbs 494 g
Beef liver 3.00 lbs 1361 g
Ice water 5% 200 ml
Allspice 0.15% 6.0 g
Juniper berries, ground 0.20% 8.0 g
Non-fat dry milk powder 1.90% 76.0 g
Salt 1.50% 60.0 g
Onion powder 1.00% 39.9 g
Cure #1 0.265% 10.6 g
275 Bloom gelatin (can use Knox) 0.20% 8.0 g
White pepper 0.20% 8.0 g
Marjoram 0.40% 16.0 g
Ginger, ground 0.20% 8.0 g
Nutmeg 0.05% 2.0 g
Coriander 0.05% 2.0 g
Fresh beef liver, chopped: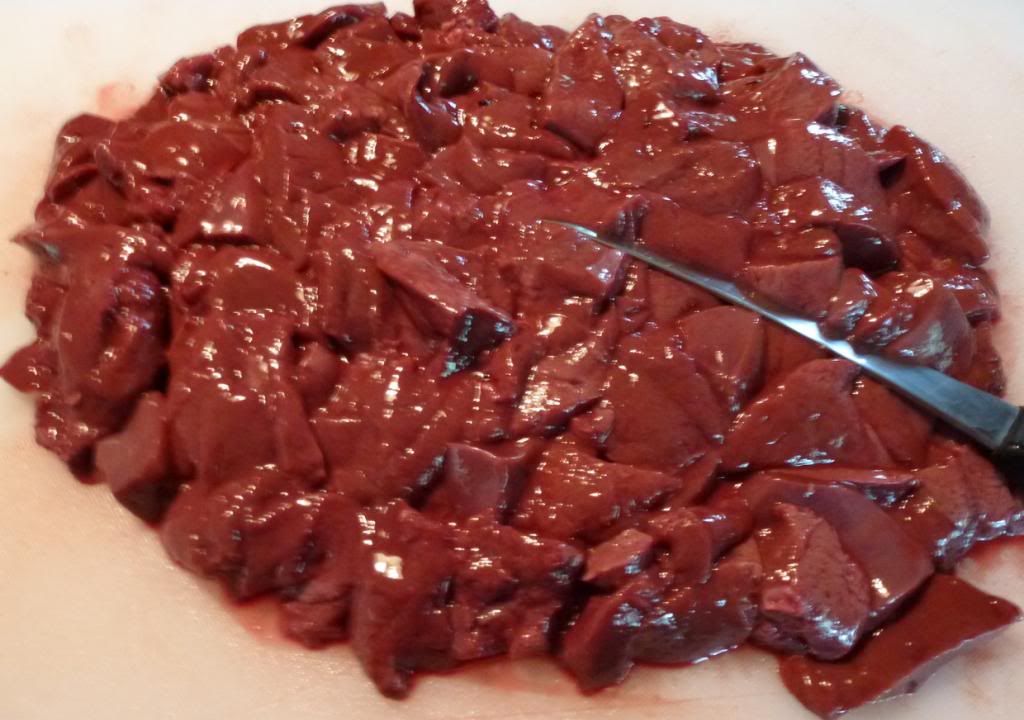 Keep everything super cold and then grind up some additional fat (in my case, pork back fat thru 3mm grinder):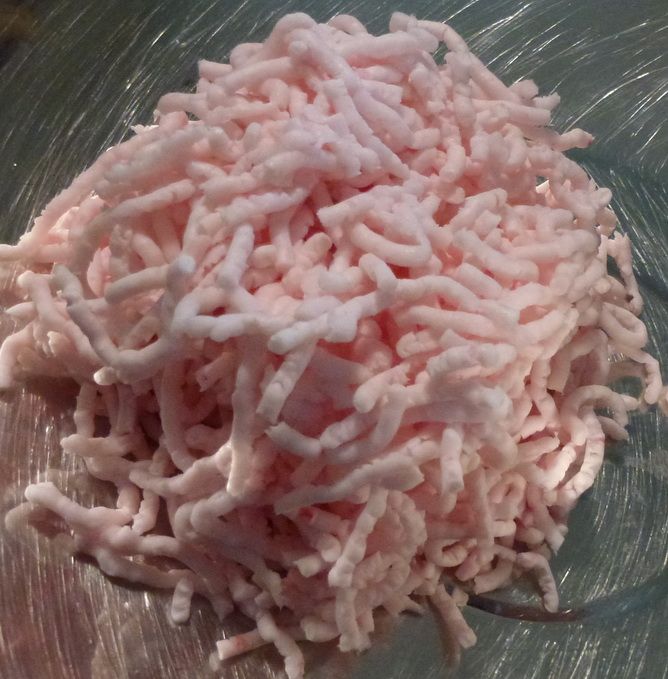 Next, mix everything except for the ice water well:
Then, working in batches that your food processor can handle, process until well emulsified (usually about 90 seconds). Add small amount ice water while processing to keep the machine from bogging down.
Stuff into 3 inch diameter fibrous casings and place in 160°F water until internal meat temperature hits 152°F. In my case, this was about 2 hours.
Next, allow sausages to dry until outside is dry to touch and place in smoker. Smoke for exactly 2 hours (no more) using pecan pellets in A-Maze-N pellet smoker with smoker temp between 110 and 120°F.
Place into cooler overnight. Slice and enjoy: