I would like to "copy and paste" a post or two by our fellow-member BUTTERBEAN in Georgia. Joe is a professional but way too much of a gentleman to "blow his own horn". He would never brag... although his projects are some of the finest we've seen! So, we're "bragging" ABOUT him... and re-posting some of his ideas and methods for your benefit and gain. Thanks for sharing Joe!
Butterbean wrote:
When I was first introduced to this I was taught by a butcher who was a firm believer in brines. After his death, being a poor pupil, I was forced to figure stuff out on my own and I skint cats all sorts of different ways - some successful some not but often times it was inconsistent and inconsistency seemed to be my biggest problem.
With that said, I have tended to go back to the basics of what he taught me. I don't mean to imply that any of the other methods are wrong - because they are not - its just that I can only remember so much and his approach was to keep it simple and for a simpleton as myself this suits me quite well.
Brines are amazing things but if you do some research on this site you will find all sorts of wonderful brines and techniques to brine meat. Each person has their own favorite method and I don't think you will find anyone who will agree on the best method but what I think everyone will agree that when you start using different recipes for brines it can get confusing on how long to brine a cut of meat. It will vary by cut and by brine strength and can really get you confused and frustrated so I have gone back to using what he showed me and he liked his brines "hot" - 65 - 70% on the salometer.
Again, I am not saying this is the best strength and you can adjust it to whatever you want to but the important thing is to keep your brine strength consistent. If you do this, and you take notes, then you will know how long it takes you to cure any piece of meat and you will invariably obtain the all important consistency. It'll be like riding a bike.
With all that rubbish out of the way, I begin by making a brine with salt water only. I test the strength with the salometer and once I have it between 65-70% I add the cure and whatever spices or flavors I want to add. (My friend would laugh at me today because he calculated this using an egg and how it floated a certain way but I'll be darned if I can remember how he did this) The options here are limitless but I've found sweet brines with molasses or brown sugar tend to be a big hit with our tastes here. I also learned adding vanilla to the brine will bring smiles to people's faces as this somehow brings back childhood memories of eating vanilla wafers with a cup of milk. Its funny how no one can tell me what's in it but they all say its something pleasingly friendly and familiar.
Sorry for the ramble but just saying there are so many ways you can go so don't feel tied down or scared to try something that you think will taste good and by no means make the assumption I'm right. Key is settling on a brine strength you like and becoming familiar with what it will do and what it can't do. You can always add flavors later.
What this can't do is fish. Way to strong. For beef and pork its fine. Typically what I do is make a batch of brine and hold back one gallon and place in a sterile container to be used for injection - get to that later. (Never inject used or unsterile brine into meat)
My recent curing project started with a load of butts, bellies and chop scraps. I made the brine and noted the time and the date and put the bellies in the brine and put the boston butts in the cooler to thaw - it takes three days. The bellies are ready in three days if you want a mild bacon similar to what you buy in the store. 3 days - NO MORE. A day more and you have a very salty bacon. I then remove the bellies and submerge them in water to rinse off the brine and then hose them down well. I then hung them in the cooler to dry. They are still curing at this point. This is important to understand. Don't rush things. During this period I had cut the coppa meat off some of the butts and prepared a sugar cure for these which will take 14 days curing time, the scraps were made into various sausages.
Pancetta and Sugar Cured Coppa - both take 14 days curing time (another way to skin a cat)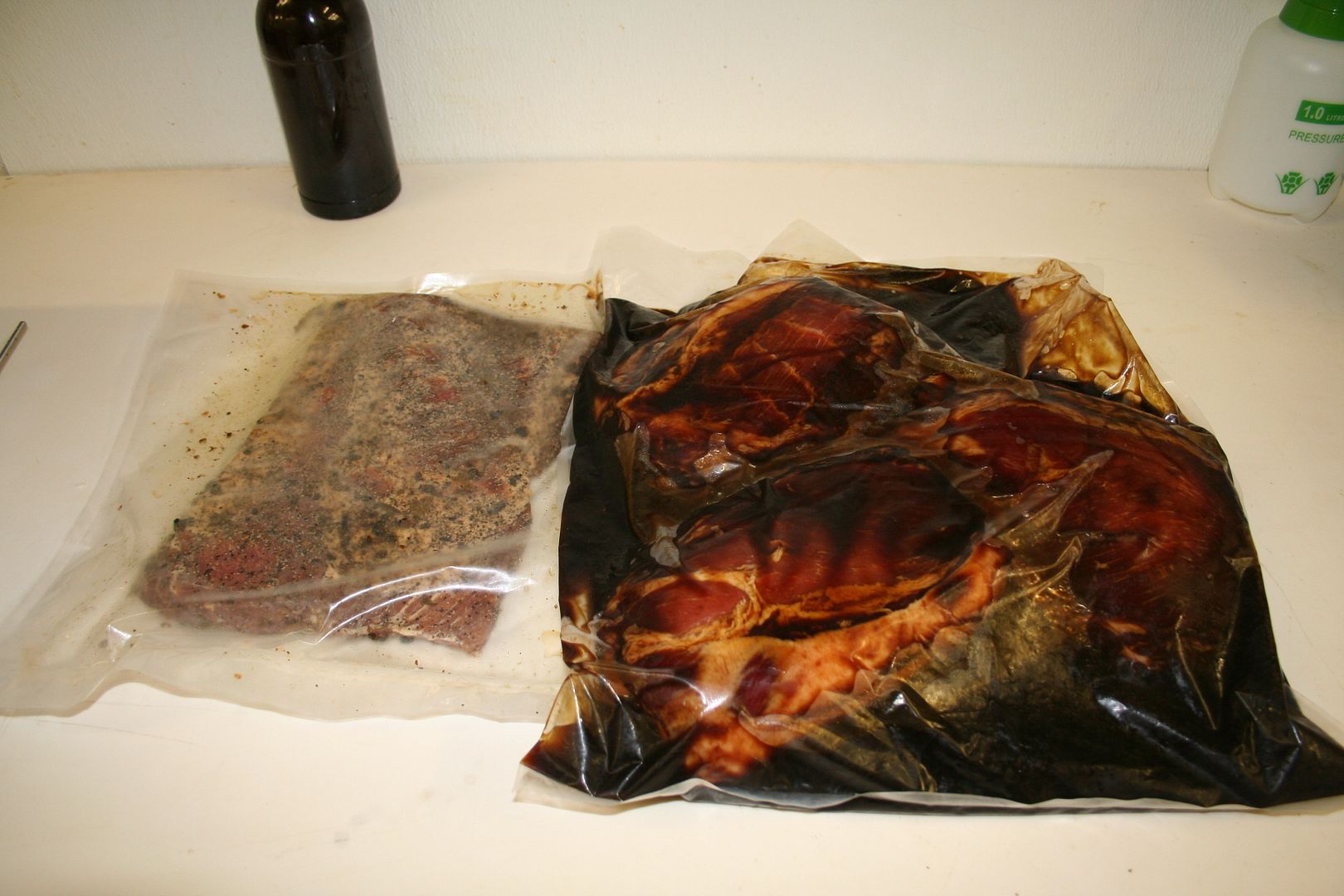 The smoked sausages were linked and put in cooler for the flavors to meld and the casings to stiffen.
Once the bacon had dried, I add extra flavor. Molasses, honey or syrup with a good dose of black pepper. These were smoked with the sausages in pecan at no more than 170F till the internal temp reaches 135F then remove and immediately skin while the skin is soft and easily removed. If skinned, I dust the skinned portion down with black pepper and the warm fat will serve as an adhesive for the pepper. I then hand in the cooler for at least 24 hours before slicing.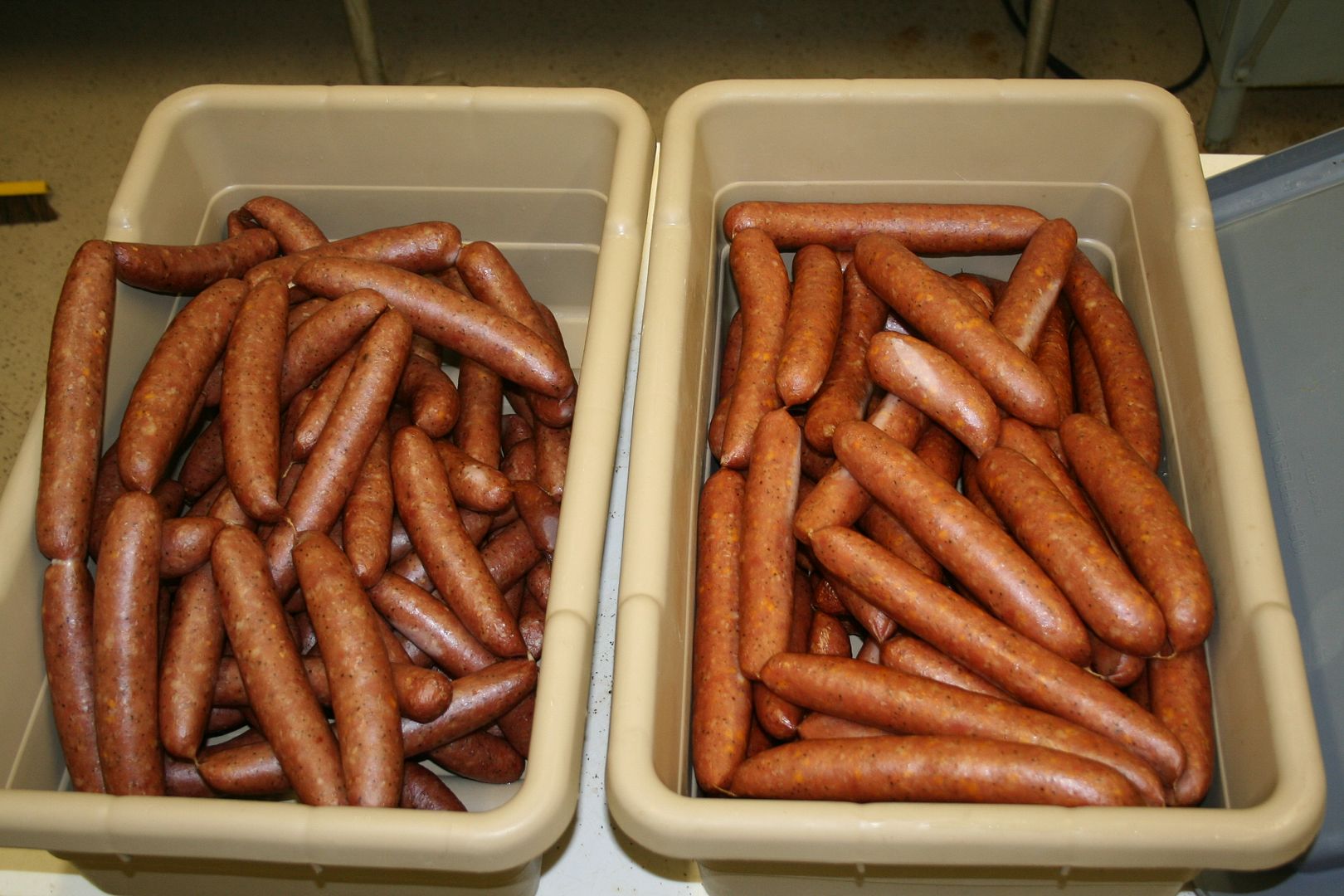 End result is a beautiful mild bacon. Its important for people to understand that since this is a sugar cure it should be cooked at a gentler heat else the sugar will turn black. The beauty of this is when cooking slower the skin on bacon will have time for the skin to cook up like pork rinds rather than being a rubbery string they have to spit out.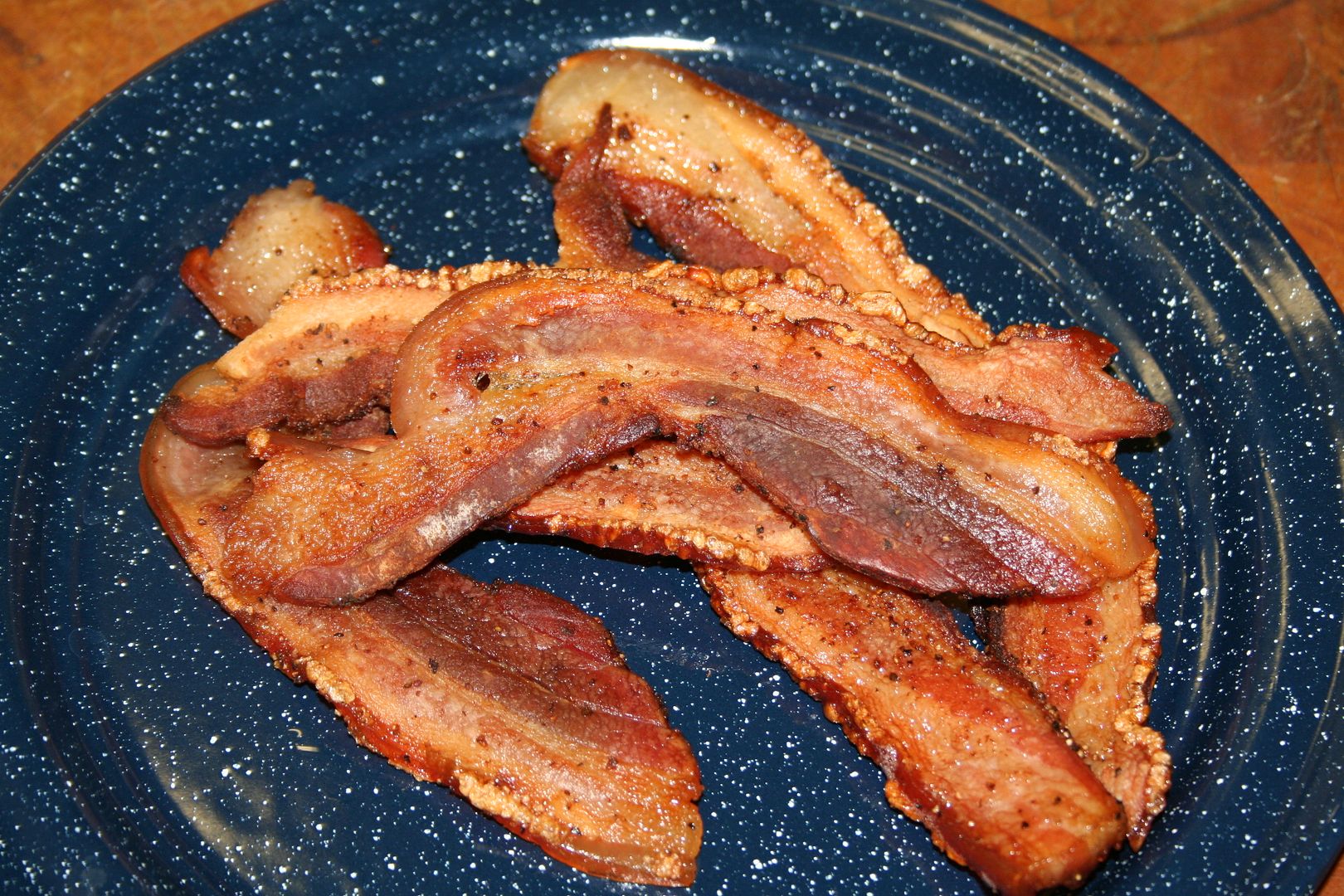 Sausage was[n't] bad either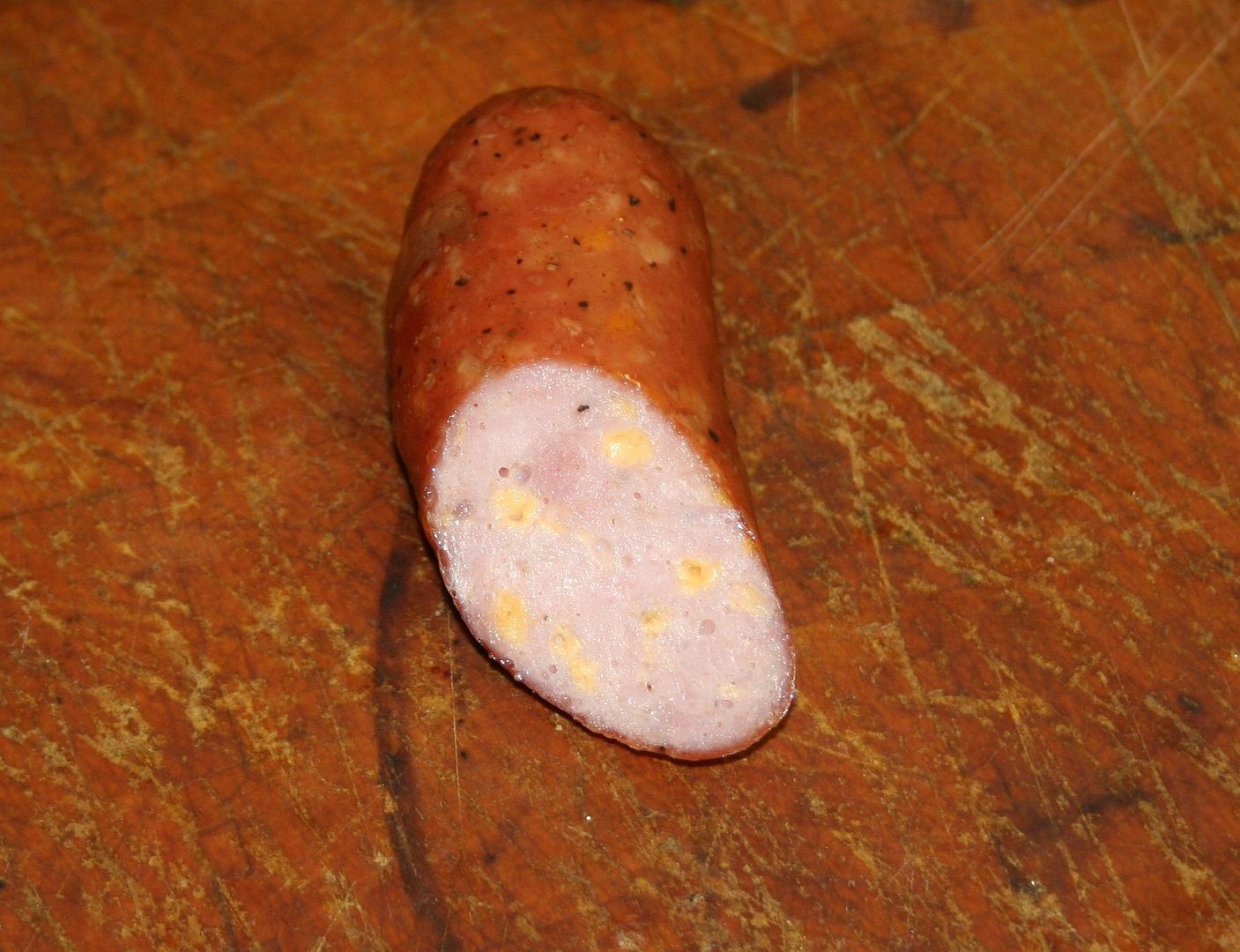 Next I took the unused butts and pulled the sterile brine and poured some out and diluted it to about half and injected this diluted brine inside the butts. Mostly trying to get it toward the center of the meat where the cure will take the longest to reach. You don't have to do this but if you don't do it and you don't allow the meat to hang and equalize properly you will get silver dollar sized spots in the meat that are not cured. This just adds some insurance.
The injected butts are then submerged into the barrel of brine I pulled the bellies out of. Its still fresh and there is no cross contamination problem following pork with pork. I then place a food container filled with water on top of them to weigh them down. They will stay in the brine for 5 days if you want what I call a city ham - like you buy in the store for sandwiches or Easter dinner. If you want to make a country ham like a Tennessee or a Kentucky ham for hanging which is shelf stable just figure a day in brine per pound. I don't suggest this method for prosciutto though. But for a mild ham, five days is plenty for butts, loins and hams but remember to allow to equalize and be sure to inject any of the thicker cuts like ham.
Again, when you remove the meat from the brine you need to rinse it well. This brine is strong and you don't want it to get too salty. These times are critical but you can eliminate your chance of "forgetting" by using your smart phone to schedule the time as you would a meeting or something. I find the phone is very helpful for this because I'll have so many irons in the fire and my little grey cells aren't sparking as good as they used to.
Once you've removed the meat and rinsed it well be patient. The meat is still curing. Just like with hams, you should let the meat equalize a little so the cure can balance out. My tendency was to always rush things and the little silver dollars would show me the error of my ways. So don't rush it. Let it rest in the cooler a few days. A ham needs 14 days so you can use this as a guide based on the size meat you are curing. Or don't, but when you see the silver dollar you'll know I told you so. Nothing wrong with it other than it'll piss you off because you knew better but the injection will help prevent this.
Once its cured and has time to equalize you can do all sorts of things with the meat, its all up to you.
City Ham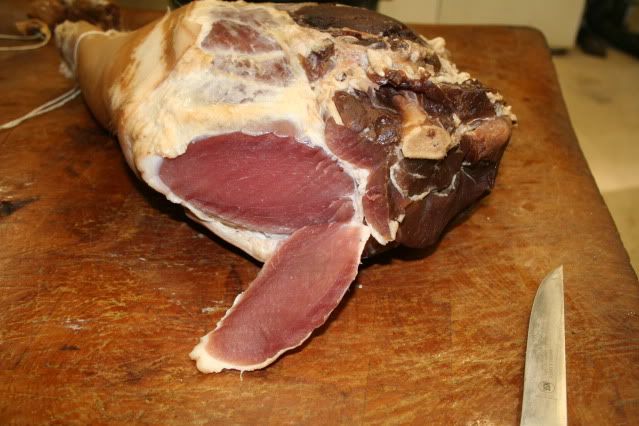 I highly recommend doing a whole side of pork chops. Curing them bone in then cutting them and cooking them as normal. Ham - pork chops are good eating.
I think if you look through some of Marianski's polish recipes you will see many of them call for cured meat. Though you will have to tweak the salt some to adjust, I think you will find this method is also a good easy way to have some cured cuts on hand for sausage making.
Sorry if I got a bit wordy but maybe this will give you some ideas. Main point I tried to get across is you can cure any of the cuts but its a lot easier if you stick with one brine strength and get familiar with that and don't get in a hurry. Curing is a chemical process and it needs time to cure properly so don't forget to allow the meat to equalize. I also think if you settle on a brine method you will more easily obtain consistency from one cure to the next. Good luck.
I didn't mean to imply you have to cure the whole muscle just that having a vat of brine around would be a simple way to cure the cut pieces of meat for the sausages. You can just take your pieces of meat and put in a onion sac and submerge in the brine beside whatever else you are curing. It would be ready in a day if the pieces were small.
We used to keep a lot of corn beef going. It was so simple. Every other day or so we would take some meat and run some butcher's thread threw the meat and tie knots in it. One knot would mean Monday, two for Tuesday and so on. This way you have a continuous supply of meat and you can keep track of what's what.
Having a brine bucket at the ready, I think, can really help you out when it comes to your efficiency. Once you get the hang of what your brine can do then you will find all sorts of uses for it. It just makes for easy curing and you can add more flavors later.
Forgot to post the my brine bucket. Handy thing to have around.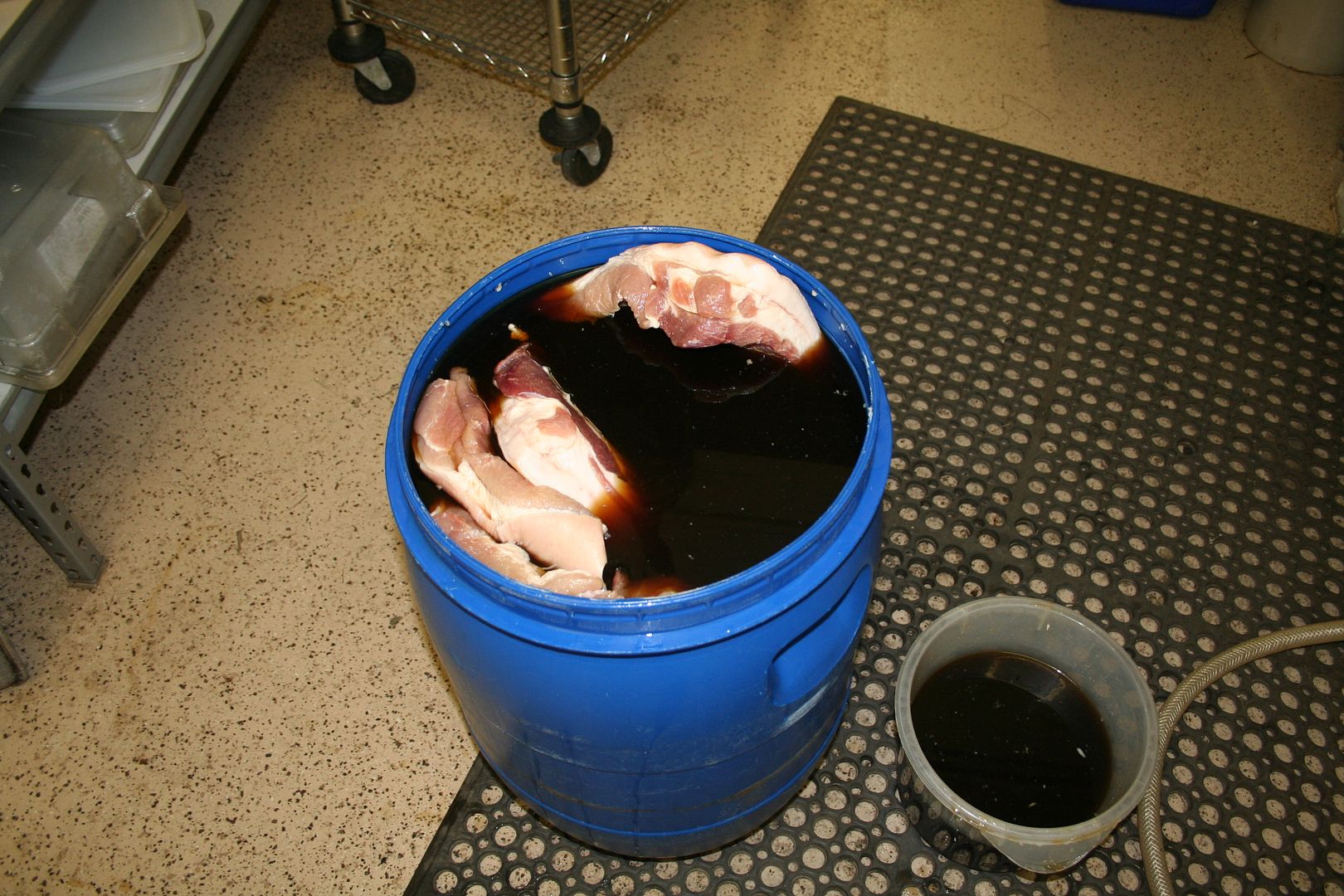 6/11/14
Here is an update. With two different curing periods I had timed the brine cure to come out today with the syrup brine. I rinsed the brined butts and cut a piece and pan fried it to test. I liked it enough I cut several more pieces and made lunch out of it.
I then trimmed the money meat/coppa meat from the shoulders and packaged the cured trimmings for later use in sausages calling for cured meat.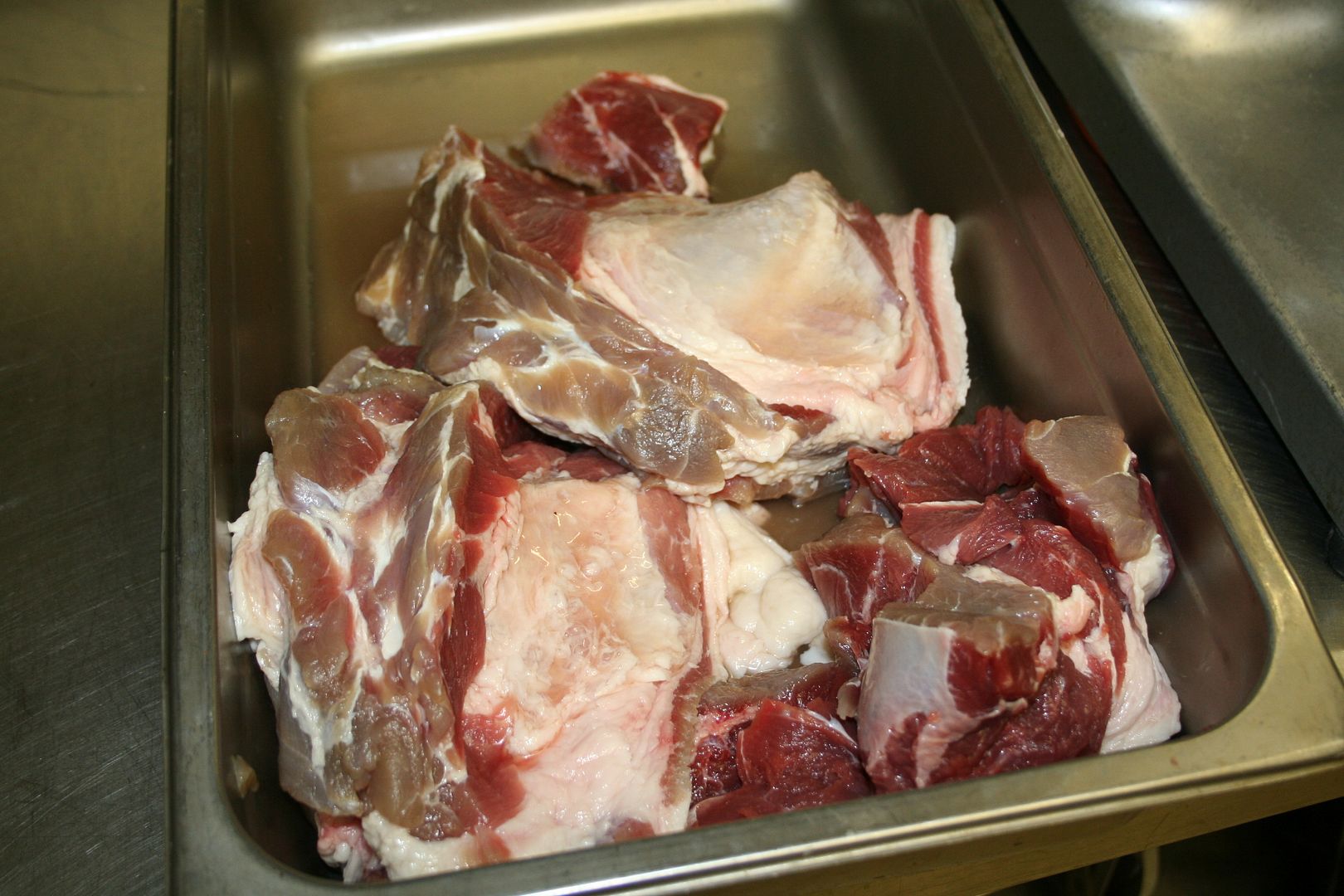 I could have left these whole but this would create some slicing problems later.
I'm shooting for making something along the lines of a honey backed ham so I made a rub using about a cup or two of cane syrup, a tablespoon each of mustard, black pepper, powdered garlic, powdered onion and some Cajun seasoning. Tested with my finger and it seemed alright.
Hung in cooler where I'll let them sit for a few days or till I have enough meat to fire up the smoker. I'll smoke these till they have an internal temp of around 140F then cool.
Took the cured scraps and made some polish sausages and put in the smokehouse with the paletas they finished first so I shut the smoke down and pulled the sausages then turned the heat up to 200F to finish these whole cuts.
Once the paleta pieces reached 145F I pulled them and set aside to rest. Am really curious what they taste like and its all I can do to keep from slicing them but I wanted them to rest in the cooler overnight. If they taste anywhere near as good as they smell I'll be a happy camper. The sausages made from the cured pieces tasted great. Nice color and the salt is spot on.