Hi All. Christmas season is coming so during preparation I have found good deal on them ($2.99per Lb) - box of 10Lb. In Polish people it is one of more valued dishes, mostly prepared during a huge families gatherings. Also it one of few polish dishes that can be prepared in many similar ways like kielbasa - everyone cook has own recipe. Most people love them, many like them and some hate them.
So lets start - defrosting - 3 days in refrigerator.
Then washing and boiling in water only. During boiling process I have changed water 3 times ( boiling for 30min. then draining, filling with new water, boiling30 min, draining, etc) it took me around 3 hours (when they become soft). Reason - less fat plus eliminating odor). During last boiling I have added some salt to water. During that time in other pots I have prepared a bullion - beef ox tail , cubed beef for stew, pork ham bones, pork neck bones, couple chicken things. I have added 1 part of bones and meat plus 3 parts of water, put it to boiling point, took out foam and let it simmer for 2 hours. Then I have added to bullion - salt, grind black pepper, few bay leaves, all spices, carrots, parsnip, celery knob, onion, leeks, red pepper, hot red pepper (little). ( I have been cheating and added 2 tablets (Maggi)of beef and 2 chicken). Then I have simmer it for additional 40 min.
During that process I have drained and let a tripe cool down. Then it is time to cut them in small strips like these on picture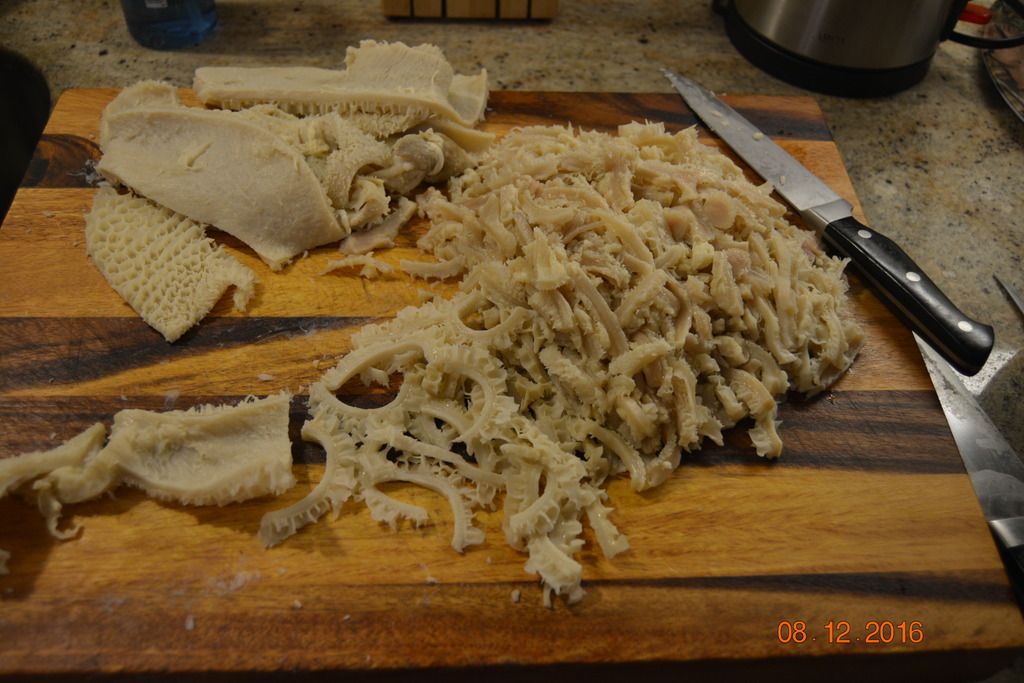 .
Also I have removed any bones, meat, vegies from bullion, separated meat from bones, cut veggies in small pieces. To hot bullion added tripes, meat, veggies. Heated it to boiling point and simmer it around 5 min. On end of cooking them I Have made a roux (not sure that is proper word) - but - some unsalted butter plus chopped onion putted in fry pan and heated it to point for glassy onion pieces, then added some wheat flour and keep it fry to browning onion and wheat. Add some bullion and mix it, then and that mixture to flaki. They looks like this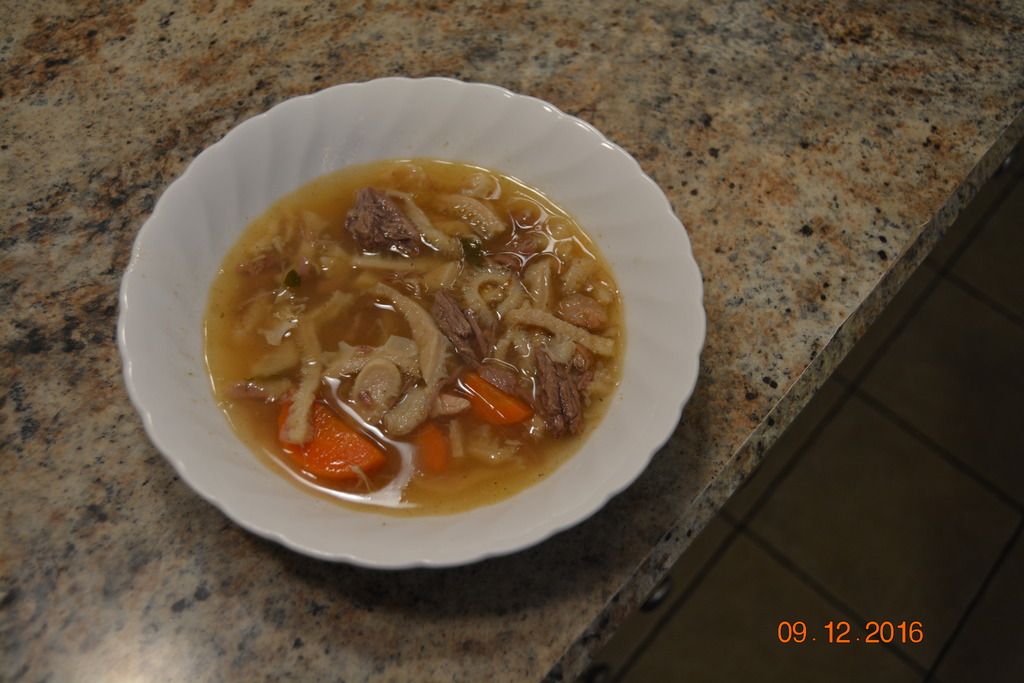 At this time they have been ready to be served with some additional spices - marjoram and green sweet beans. They should be spicy hot.
Because I have made a lot of them so I do not finish them with roux, marjoram, beans yet.. Cooked hot flaki I have put to jars. Canned them in pressure canner for 30 min, (250*F). They should be good for next 3 months in refrigerator. Serving as soup (after heating them to boiling) with pieces of Italian or French bread.