I had a hankerin' for some good smoked pork this past weekend so I grabbed two pork shoulders from the freezer (about 11 pounds worth); thawed them overnight, slathered them in yellow mustard and gave them a generous coating with this rub:
My RUB
This makes a good-sized batch


2 oz cayenne pepper
8 oz chili powder
4 oz garlic powder
4 oz onion powder
8 oz Spanish paprika
3 oz cumin
4 oz kosher salt
16 oz brown sugar
4 oz black pepper
Broke out the bag of Kingsford as I was going to use my ol' reliable Weber WSM for this long smoke. I anticipated it would take about 12-18 hours for the desired temp (190°) to be reached.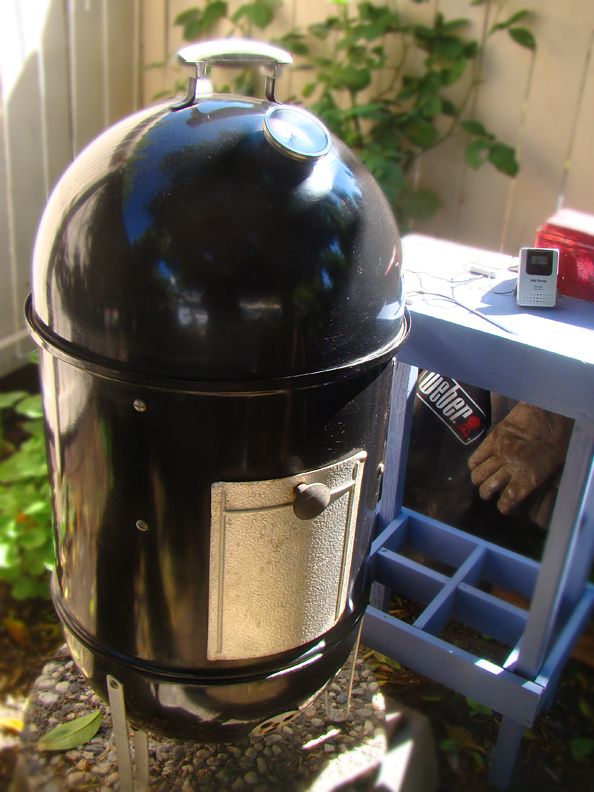 For the wood, I added 3-4 large chunks of apple wood and a few smaller pieces of hickory.
Got the two pork roasts in and got smoke rolling...
The temps were very consistent (225-250°). I had to add a few more briquettes about 2:00 am (about 12 hours into the smoke) as the temps dipped down a bit. 16 hours later, my Maverick went off (at precisely 6:00 am!); took the pork out of the smoker, wrapped them in saran & foil, and placed them in a insulated container for a few hours.
Few hours later, the pork was pulled. Great bark, nice smoke ring, moist & flavorful. The rub added a nice ZING!
Pulled pork sandwiches with homemade sauce & freshly-made coleslaw! Good eats that were well worth the wait!
Kevin