Greetings
Posted: Mon Aug 12, 2019 02:56
Hi,
Just wanted to introduce myself to the forum.
This is something i have been interested in for a while and this forum looks like a great resource!
Also it looks like i have a lot of reading ahead of me.
Just built my first chamber and have a Pancetta Tesa hanging to test it out.
Will stick with whole muscle until i am happy with the chamber, get some more gear and i get my head around starter cultures, PH and mold coverings.
Any tips of improving my cabinet would be appreciated.
Its a 420ltr single door frost free fridge with inkbird temp/humidity controllers and a crane 3.7ltr humidifier, i also added a cheap sonoff WiFi temp/RH controller so i can monitor remotely (RH is not super accurate but gives piece of mind)
I live in a very dry climate (Outback NSW Australia) and initially thought i would have no need for a dehumidifier.
As it is winter here and the fridge is in an colorbond shed i finding the temps are dropping overnight (down to about 4c) also as the fridge is not kicking in the humidity is rising over night (95%). its fine when the fridge is regulating temps during the day and will be fine in summer/spring but i decided to buy a small dehumidifier today anyway.
Summer here is very low humidity and temps up to 47c , winter can drop to 0c overnight and 10c during the day.
Should i be looking at a heat source for cold weather/fermentation?
I currently have no fans for air circulation either, i was thinking the frost free fridge should be circulating enough air.
Should i add a small computer fan or not? guessing it would help with humidity control in cooler weather as well?
Thanks in advance for any suggestions , i am sure i will be bothering you with more questions as i get my head around this stuff.
Pics of my current setup: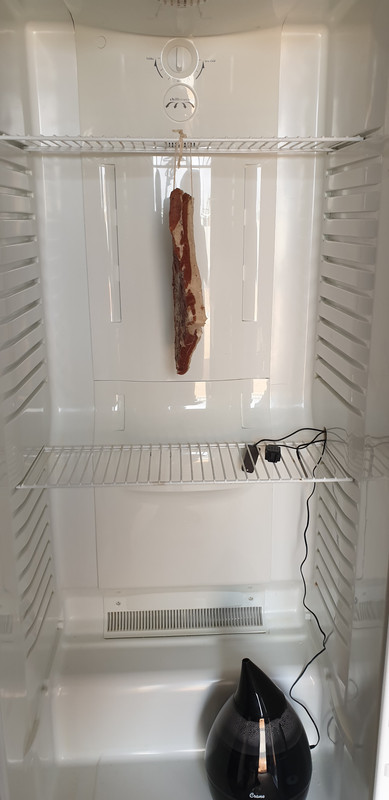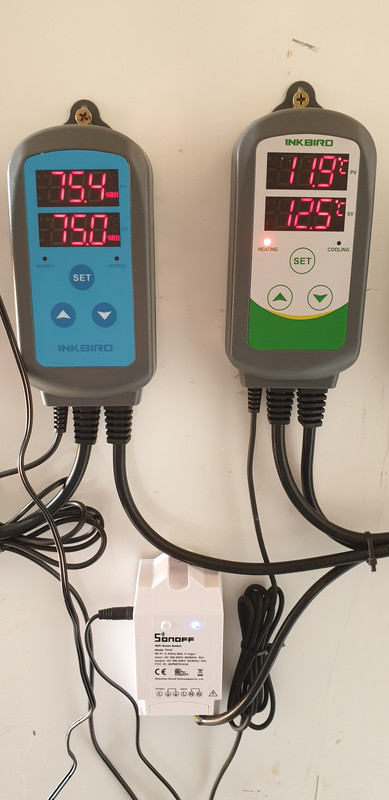 Cheers,
Mick