.Well fellow sausage makers I am trying my first cold smoke. The weather here is now cold enough it snowed three days ago so I'm ready to go. The recipe I am using is from the polish side of this site by Miroslaw (Mirek) Rozmyslowick. If I figure out how to post a link to that recipe I will do it. Knock-Knock Siara, That's your cue to help me out here if you can find it.
Ok here's the meat after three days @ 40 degrees f. with salt,cure #1 and sugar.
Ready for the grinder just one time through with 1/2" plate . The grinder is a no.32 Alfa. As you can see I got tired of cranking it and made a few modifications and now its to heavy for me carry upstairs it was still well worth it.
Its hard to see but this is when I add the rest of the spices, Black pepper ground,White mustard seed whole and Garlic. I did not add a second dose of salt because Stan&Adams book said it would not be necessary because It will be refrigerated after I'm done and not hung in kitchen.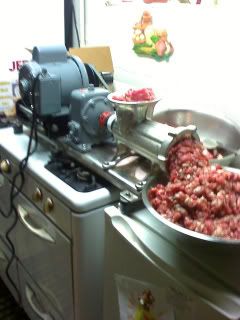 Now the meat is ground its time to mix it up. this should take 10 to 15 minutes. Don't try and hurry this step it is important to distribute the spice's and to form a sticky mass.Now I am readdy to stuff the casings. I am useing 38-42mm hog gut on a 1" tube. Heres the stuffer packed,casings on the tube and ready to go. I can still carry this up the stairs. Its an oldie but a goodie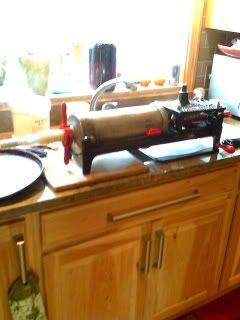 All done 7.449kg of some fine sausage. The aroma is fantastic.
I'll put them back in the refrigerator to dry for a day and start smoking tomorrow. I'll keep you all posted.