just finished smoking , I'll let them bloom for a few hours then a fridge nap before sliceing
fridge nap completed, they took on a nice colour too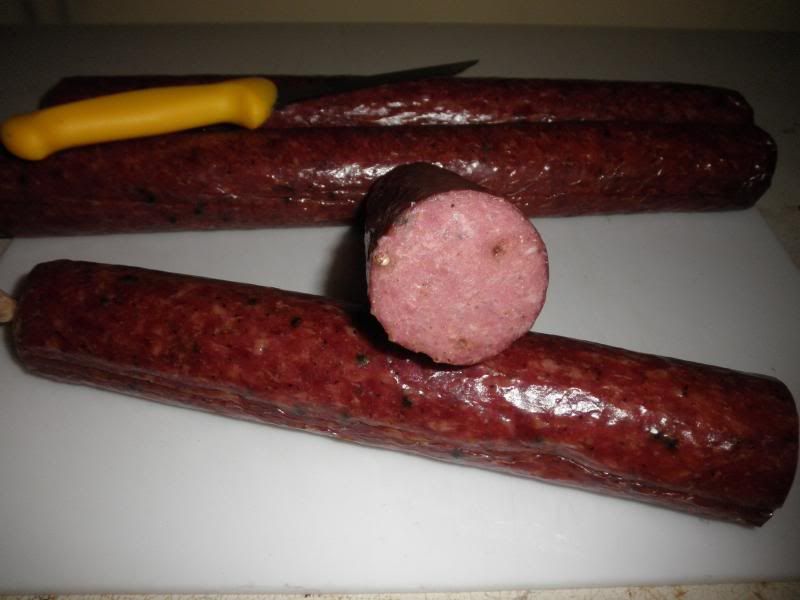 a few taster slices
taster plate, some venison pepperettes, smoked Colby , crackers and beaver salami, It would have been better with a beer but its only 7 am here.
the recipe
Salami
5 lbs. beaver
5 lbs. Pork shoulder
4 Tbs. Salt
2 Tbs. Morton`s Tender quick
10 Tbs. Honey or corn syrup
2 Tbs. ground black pepper
2 Tbs. Whole black pepper
2 Tbs. Cardamom
5 cloves garlic crushed
2 cups powdered milk
1 cups ice water
grind all meat and spices through a fine plate. Mix all together and refrigerate for 24 hrs. Stuff into cellulose or fiber casings.
Place in Smoker at 130 degrees F. for 2 Hours. No smoke.
turn smoker up and smoke at 150 for 4 hrs. With a heavy smoke.
Increase smoker to 175 and smoke until internal temp. of sausage is 150
Shower with cold water and hang at room temp for a couple of hours to bloom
Refrigerate overnight.