Here it is, my modest urban smokehouse that uses a MiniMax Green Egg as a fire pit.
I had a heck of a time making it work how I wanted it to, went through 3 redesigns but now it finally works like a charm.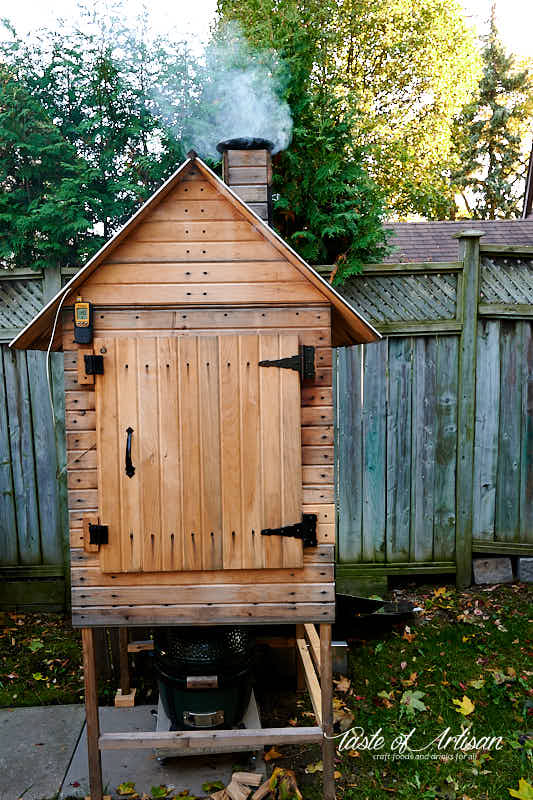 Why green egg? I wanted something portable, reliable and requiring little (or at least easy) tending. I also love the smell of the thin blue smoke from my BGE so I wanted that exact same smoke quality in my smokehouse.
My grandpa used a big drum and had a hole in the ground for a fire pit. He made exceptionally tasty kielbasa but that set up wasn't portable, looked ugly and required constant tending.
This setup is exactly the opposite. It's tidy and requires little tending. It's portable. It uses little fuel. I use wood chunks to generate clean, nice smelling smoke. All in all, I am very happy with how it turned out and I am using every excuse to fire it up and smoke something.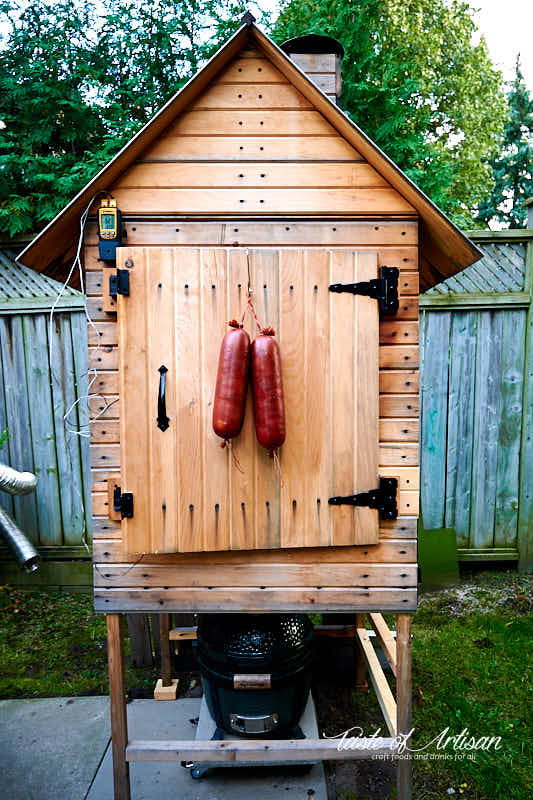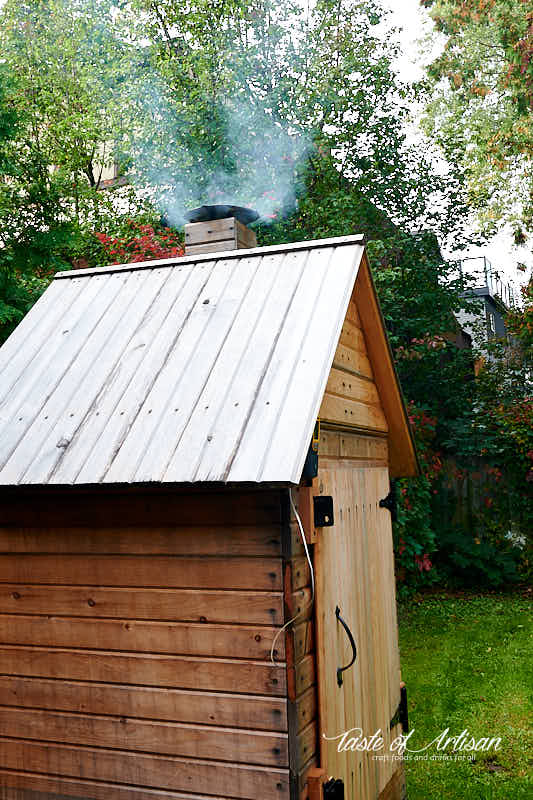 With the egg damper open about 1/3 of the way I get about 130F-140F inside the smokehouse. 1/2 way to 2/3 way gives me about 165F - 200F.
I can push it to about 220F but the temp inside the egg gets too high for my liking (close to 1000F).
The temperature control is quite easy, responsive and predictable. One load of charcoal to the top of the fire ring lasts about 3-4 hours. For smoke I need to add a wood chunk. I just open the smokehouse and drop a chink down the chimney. I have to do it every 15-20 minutes. Not ideal but I can totally live with that as I don't need to do much of anything else.
For longer smokes I would need to roll the egg out and refill charcoal. If I need to add just a little bit I would throw in a few lumps down the chimney. Temperature recovery is very quick.
The smokehouse is fully insulated with a 1" thick ceramafiber blanket so I get about the same temps on both hot and cold days. Can't wait to try it in winter.
For cold smoking, below 80F, I use a 6-8 ft SS chimney flue. By the time the smoke gets from the egg to the smokehouse it cools down to pretty much ambient temperature. I also have an opening at the bottom to let some cold air in if the smoke gets above 80F. I haven't done any actual cold smoking yet but tested it and it works. It will work even better in winter.
I also run the egg low and slow for cold smoking (about 225F-250F at the dome) so the egg puts out a lot less heat to begin with.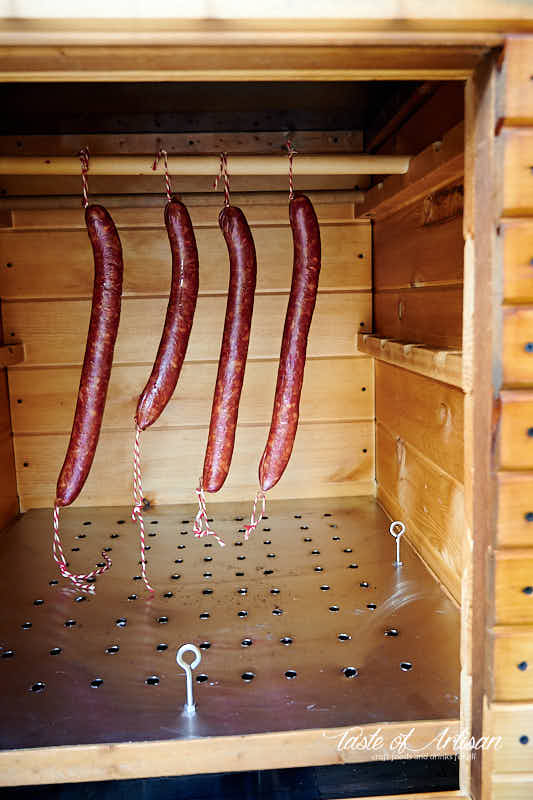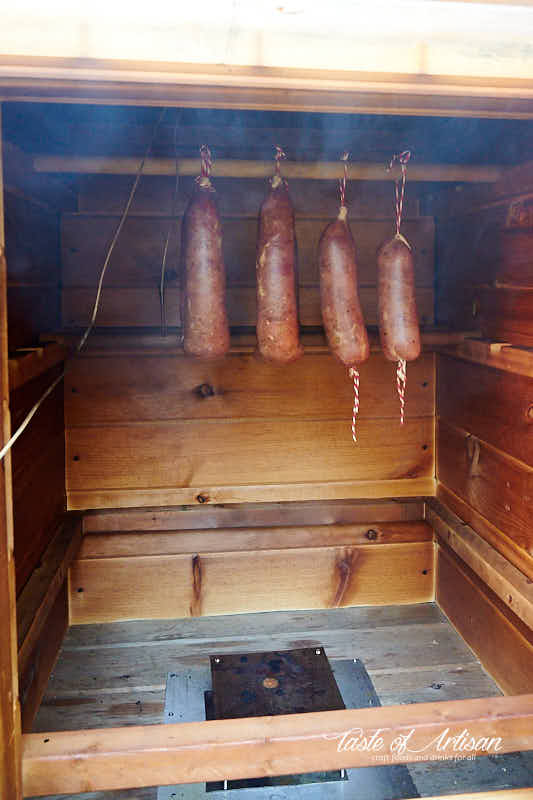 So far I've made Swojska kielbasa, Krakowska, Andouille and Lisiecka kielbasa. Beef sticks and smoked cured bacon are on the to do list this coming weekend. Recipes and my experience with some of these I posted on my blog, check them out. Who knows, you may find something new and helpful there.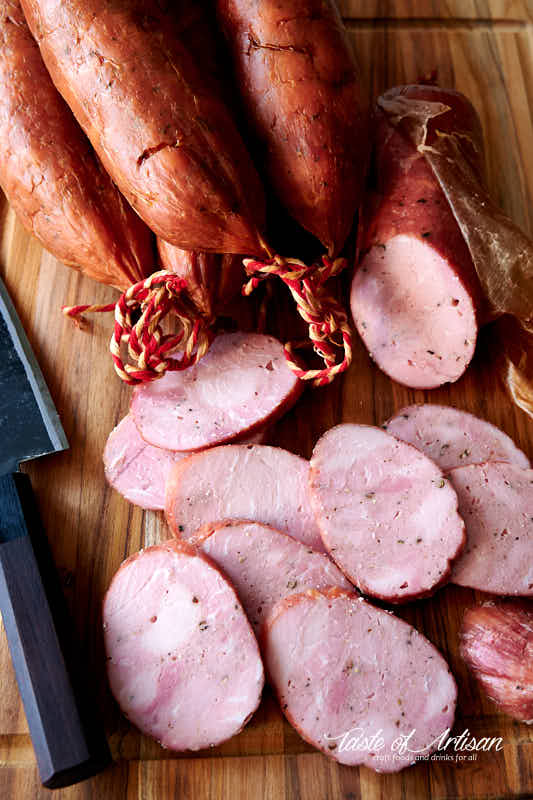 Smoked Krakow Sausage
https://tasteofartisan.com/krakow-sausage/
Lisiecka Smoked Sausage
https://tasteofartisan.com/smoked-kielbasa/
Smoked Andouille Sausage
https://tasteofartisan.com/andouille-sausage/