Jerbear
This is my smoker that I built about 5 years ago. It has had several upgrades from day one, as you can see from the photos. I started out with the conventional smokers that one would find in the retail stores, but I just wasn`t happy with the size. I wanted something I could hang a 20" - 27" salami in without having it hang directly over the heat source. So this is what I came up with.
I bought a 5000 BTU burner from
http://www.sausagemaker.com/49203mountingkit.aspx
The controls, blower, switch`s and gadgets came from the shop I work at. The inside, I lined with 1/2" foam board and flashing to insulate the cabinet. The burner box is lined with ½" foam insulation and 1/16th stainless to protect the interior from the heat. I have had this smoker up at 200 degrees without any issues. During the winter months when the temps are cold outside, I can switch the burner over (using the second coil) to 220v setting and the smoker will heat up to 165 within 15 - 30 minutes, depending how cold the outside temps are. Summer months would be the opposite, at 110v setting running one coil.
Well that`s it for now.
Chow
Wally
First test run.
Time for a few upgrades (my brother helping out with upgrades)
Another test after the upgrade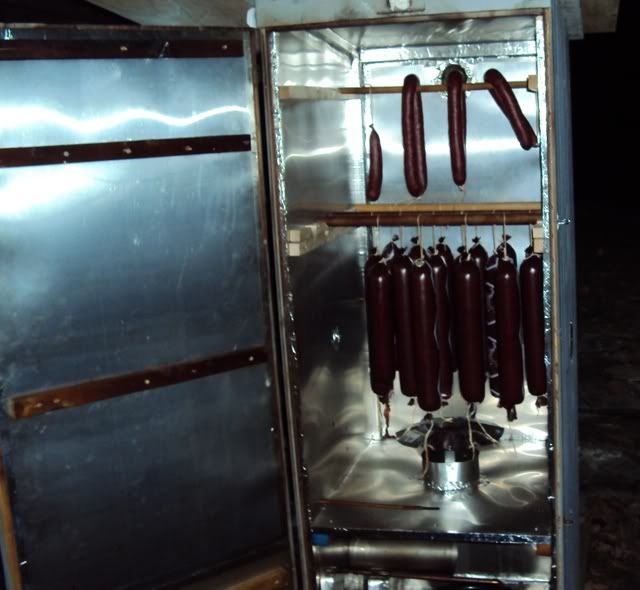 Final upgrade with variable speed control for blower speed and new temperature controller.