I've been to all the grocery stores in my area and to my dismay not a single one had old fashioned wieners in natural casings. Mechanically separated chicken: what the heck is that crap? Not in my wieners. Here's my recipe, and I should add, that this one turned out the best I have ever made or tasted. It's a touch heavy on the garlic but tastes really wonderful.
Meats, fats:
Beef chuck 3.8 lbs
Pork butt 5.8 lbs
Pork back fat 1.7 lbs
Total = 10.3 lbs, but I rounded down to 10 lbs for the spices (based on 10 lbs or 4540 g):
Spices
Cure #1 0.265% 12.0g
Trehalose (Helps to add some sweetness, but mainly helps to keep frozen product from developing ice crystals) 2.5% 113.5g
Onion powder 0.2% 9.1g
Garlic powder 0.35% 15.9g
Sweet paprika 0.46% 21g
Kosher salt 2.0% 91g
Mace, ground 0.1% 4.5g
White pepper 0.3% 13.6g
Table sugar 0.7% 32g
Coriander, ground 0.2% 9.1g
Mustard, ground 0.2% 9.1g
Celery salt 0.05% 3.0g
Marjoram 0.1% 4.5g
Non-fat dry milk powder 3.0% 136.2g
Fresh egg whites (each large egg white is about 30g) 2.7% 123g (4 egg whites)
B&P Meat binder (phosphates) 0.5% 22.7g
Sodium erythorbate 0.55% 25g
MSG 0.5% 22.7g
Ice water 15% 681ml
Grind almost frozen back fat through 3mm plate followed by beef and pork. Mix all dry spices into meat paste well and then run through 3mm plate a second time (or feel free to spend the time with the food processor and emulsify). After 2nd grinding, add ice water and incorporate well until nice and sticky.
Stuff into 24 - 26mm sheep casings:
Kirby Campbell was kind enough to make some deflatulators for my stuffing tubes which really helps to remove excess trapped air. Attached with some electrical tape as shown below: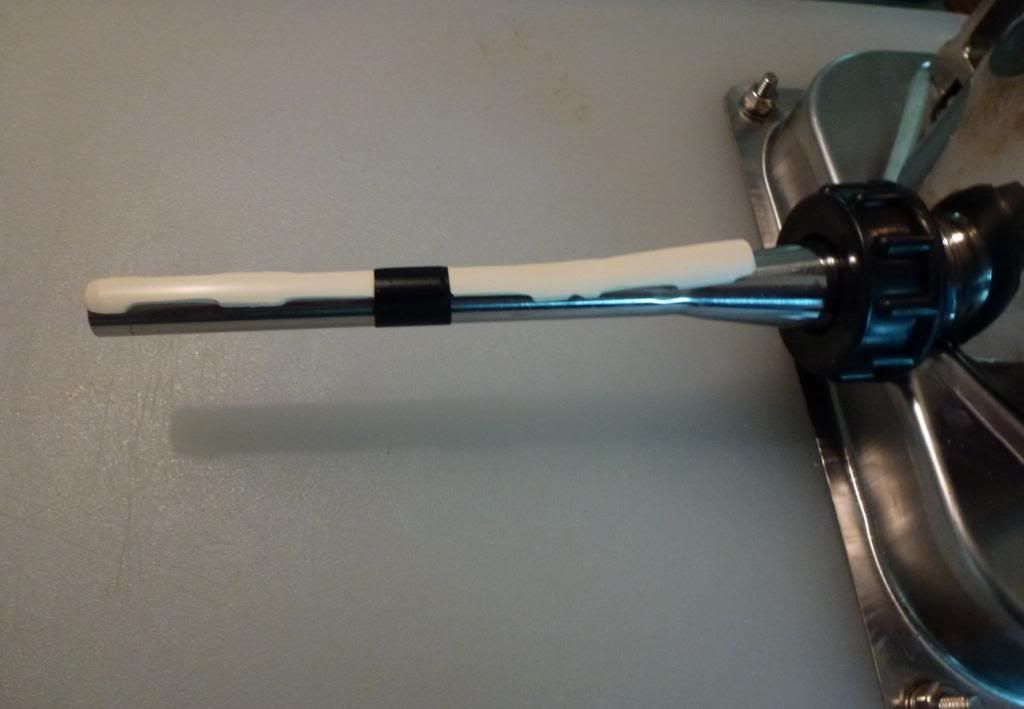 And with sheep casings in place: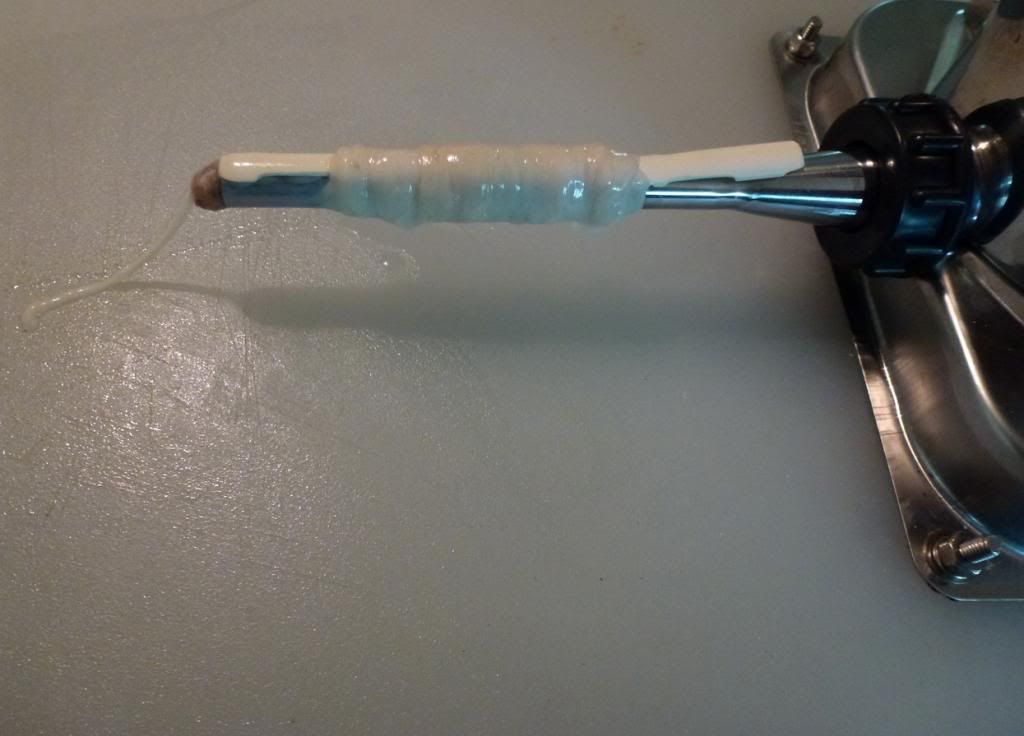 After stuffing, place in cooler overnight (or not, I was running late and didn't want to smoke and cook the same day).
The next day, place in smoker, no smoke, until casings are dry to touch at 120°F for about an hour. Then apply smoke (I used pecan pellets via the Amazin Pellet smoker) for exactly 2 hours. After smoking, the wieners go into hot water which is held at 160°F until internal meat temp hits 152°F. Then, immediately place into large bucket with ice and cold water and allow to completely cool and to prevent shrinkage.
Sorry, didn't take pics except for this one of the finished wieners in vacuum bags ready for the freezer. The final weight was right at 12 pounds: