My polish friend made this recipe to get close as possible to famous Katz Delicatessen pastrami.
Original recipe has been posted on polish WD. Few days ago, using his recipe I have made whole brisket in his way. - Results - outstanding..
so it is -
EQ curing in vac pouches with addition of 22 g/kg sea salt, plus 2 g/kg cure #1, Refrigerator temperature and 7-10 days.
Eventually repacking with addition some spices like granulated garlic, BP, dried onion (it is your own preferences). I have made 2 pieces with, BP, garlic, little soy sauce. another 2 pieces without any addition. Vac pouches i kept for 26 hours at 55*C(131F) for sous vide method.
After that time - pieces went to ice cold water to completely cool down. Unpacking them and dry with paper towel. At this moment it is perfect time to make own taste preferences. I have used
as glazing mix 1 part of molasses and 1 part of soy sauce plus a few drops of liquid smoke and few drops of Tabasco sauce. It is glazing mix that i have put over dried and cooled down meat with brush.
Then special rub - for 1 kg of meat..
20 g of black pepper(multicolored pepper is better)
10 g of coriander
5 g of granulated garlic
3 g of yellow mustard seeds
5 g of chopped dried onions
3 g of smoked paprika
3 g of dried Coleman mustard
coarse grind then added 100 g of Turbinado Sugar
Spices rubbed over meat pieces to make nice crust.
Pieces of meat moved to oven on crates and baked at 250F for around 1 hour 20 min.
It is time consuming but worth that effort
in oven -
Hot - directly from oven (better than Katz Delicatessen)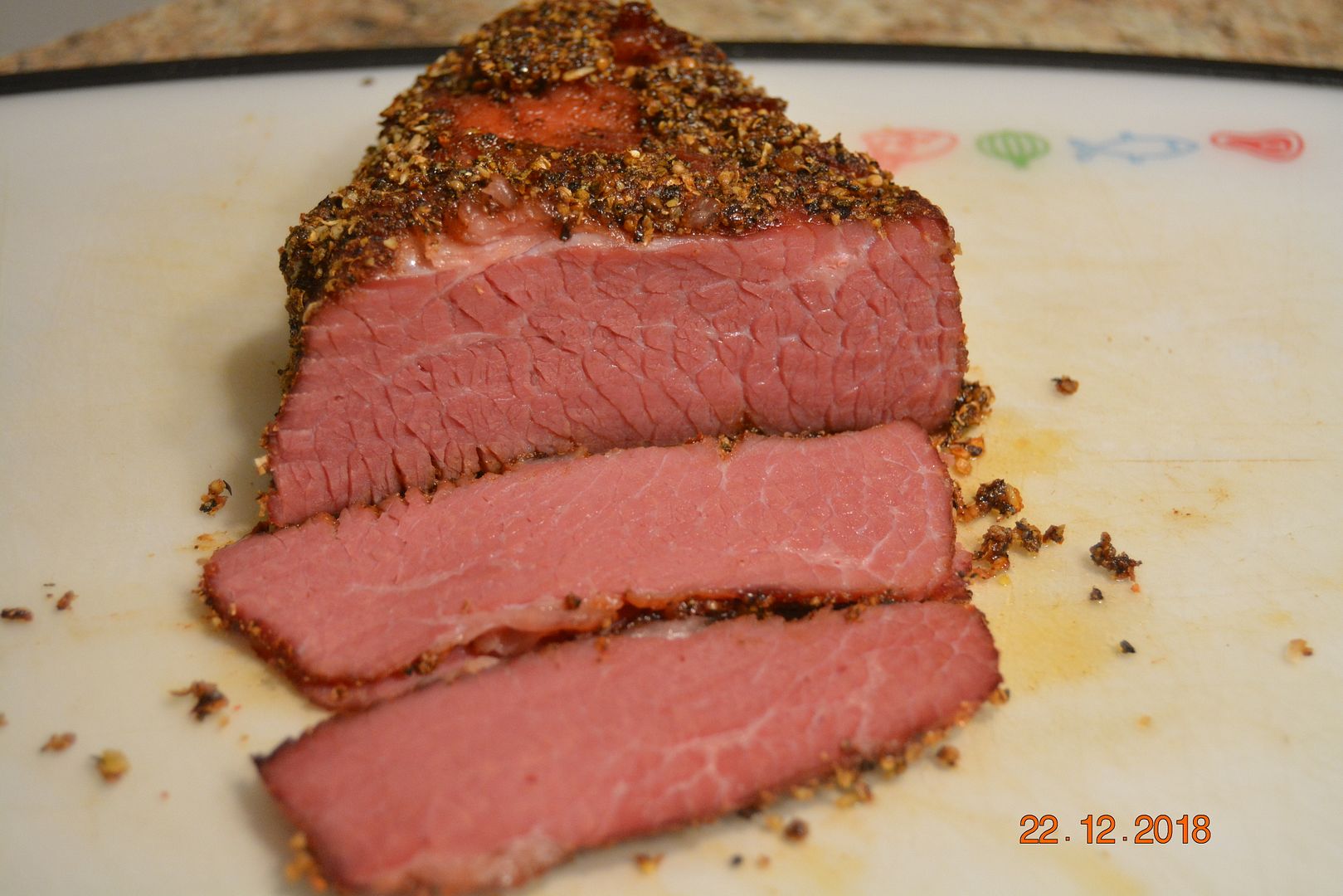 Cold - also very good to sandwiches..(or as snack)