Spaniata Romana is a large diameter pressed and dry cured sausage. It originates from the Lazio region of Italy with Rome in the center and therefore the name. I decided to go all out with project and ended up with the largest salami I had ever made. Stuffed into a beef bung it weighed 4.6kg., 59cm long and with a diameter of 11.4cm. The recipe was based on Len Poli's, but without the powdered milk and with a slower fermenting culture. Using Gewürzmüller Bitec LM-1, it took 55 hours to drop the pH from 5.85 to 5.18. And I was very happy with that since lately I have had the pH drop too fast and too low. This is a very simple salami as far as ingredients go but after making the Kindziuk, there is a good argument for the "less is better" adage. Now the waiting begins with the estimated time of four months to reach the target 35% weight loss.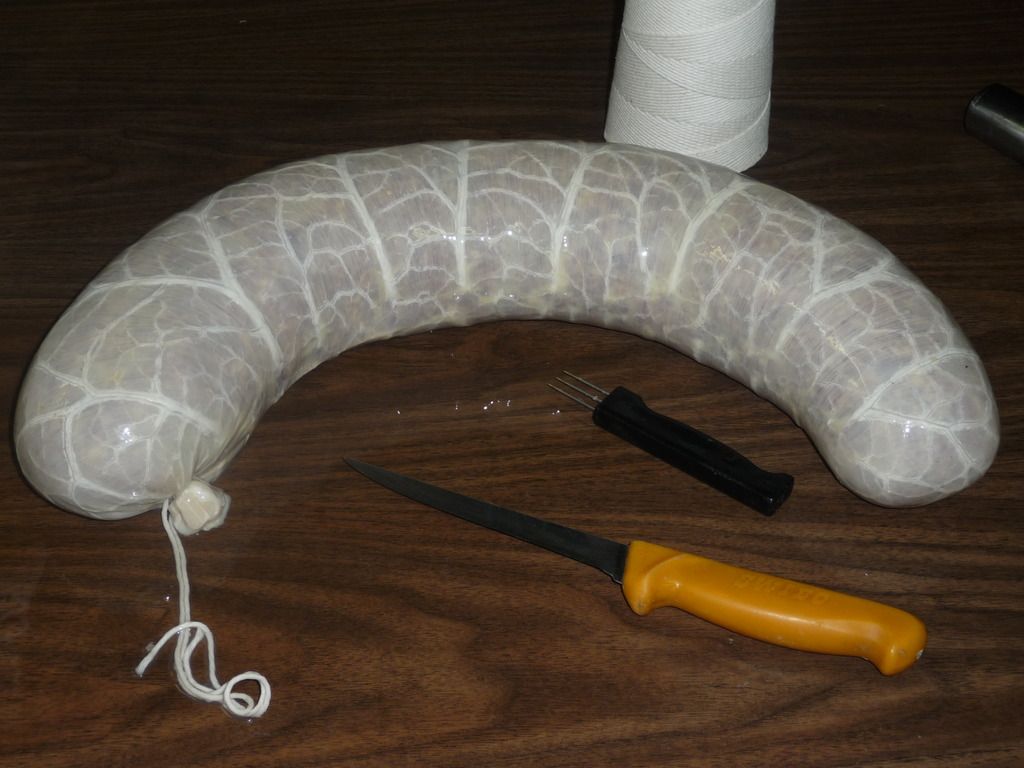 Stuffed into a beef bung. Too bad I didn't prepare more meat since it could have handled another kilogram.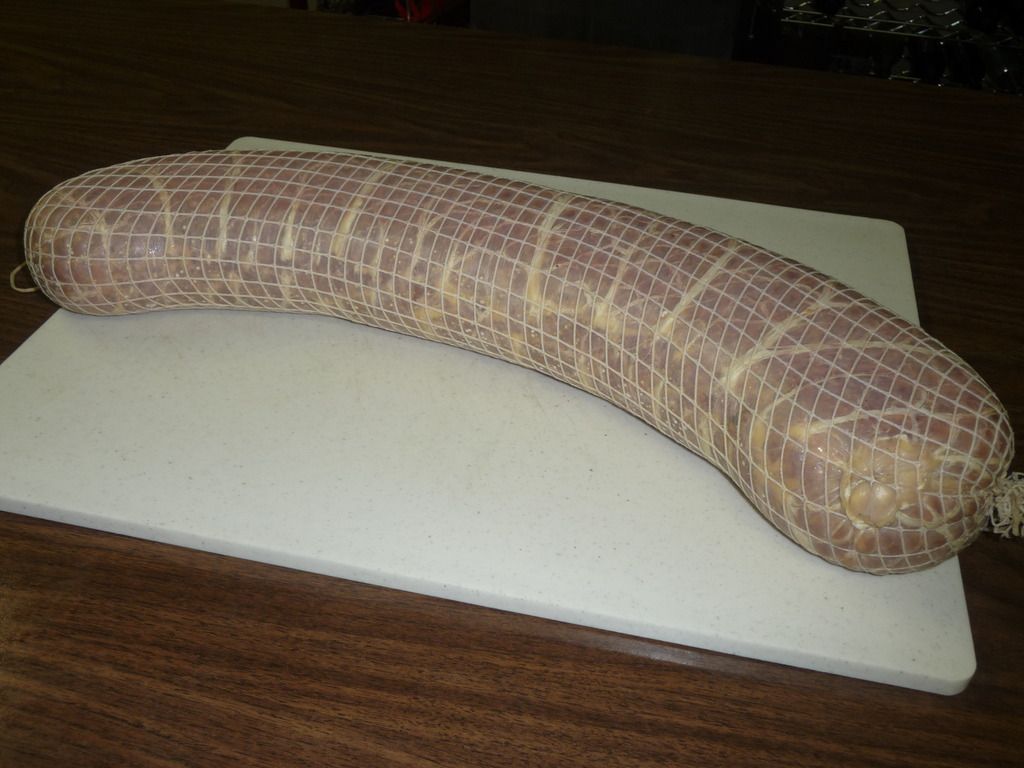 Fermented, pressed, sprayed with mould starter and ready for the curing chamber.
Spaniata Romana
Meats
Class I (lean with no connective tissue) pork from loin and ham 750g
Class II pork trims from shoulder 50g
Back fat 200g
Ingredients per 1000g (1 kg) of meat
Salt 24g
Cure #2 2.5g
Granulated garlic 2g
Mixed peppercorns, coarsely ground 2g
Mexican hot pepper flakes 2.5g
Fennel 2g
Mace .5 g
Dextrose 3g
Erythorbate .6g
White wine 25ml
Bitec LM-1 starter culture - rounded 1/2tsp used for the 4.7kg meat block
Instructions
1. Cut lean meat into 3-4cm. cubes, fat meat and back fat into slightly smaller ones.
2. Add the salt, #2 and cure to the meat and rest in fridge for 48 hours. Keep the lean and fat meats separate. Add salt to the fat and also place in fridge. Make sure that the meat and fat are covered well.
3. Freeze the fat and and semi-freeze meat before grinding. Run the fat and the Class II pork though the 6.5mm. plate and the meat through the 10mm.
4. Add the rest of the ingredients to the ground meat and mix thoroughly.
5. Stuff into a smaller diameter beef bung or a 110mm protein lined collagen casing and tie with string or net.
6. Ferment at 20-22C and 90%+ RH until pH reads 5.3 or lower, but ideally not below 5.
7. Dry at 75-85% RH until weight drops by 35%
8. Surface starter optional but recommended.