I thought I would share this with everyone:
My wife(Judy) has always liked "Cotto Salami" but we have pretty much abandoned purchasing any ground products, especially since I joined this forum and started to learn more about these products and how to produce a better product at home (I emphasize the "started to learn" part), thanks to everyone on the forum. I have been planning a fair sized grind/smoke for my brother, he wanted about 25 lbs of elk and bear meat turned into Kielbasa so I set that up for this week. Judy suggested that I make a small batch of Cotto Salami at the same time so I started digging for a recipe, with disappointing results. I found nothing on the forum and searching the web wasn't much help either, I found quite a few recipes but they all seemed to have a lot more spices than I thought I wanted to start with so I selected the spices that seemed most common to a few of the recipes and started from scratch.
I started with a pork only product as I wanted to keep it pretty basic to begin with. Here is what I came up with:
1000g Pork Butt (approx 80/20 fat to lean)
2.5g Pink Salt
15g Kosher Salt (we like the salt content as low as possible)
18g Milk powder
8g Dextrose
1g Nutmeg (ground)
.7g Cardamom (ground white)
3g Black Pepper corns (lightly cracked)
1g Garlic Flakes
65g Ice water
The pork was chilled in the freezer for a couple of hours and ground through a 3/8 plate, the pink salt was mixed with about 1/2 the water and blended well with the ground pork. I combined the other dry ingredients and added to the mix along with the remaining water and hand mixed to a good "bind". The sausage was stuffed into 3 inch salami casings and allowed to rest overnight. The next morning it went to the smoker, a couple of hours at 110° to dry well (it took awhile because it shared the smoker with 50lbs. of Kielbasa) then raised to 120° with heavy smoke for about an hour (hickory/apple combination with a few cherry chunks thrown in). I raised the smoker temp to 140° for another hour and then to 150° for an additional hour and then poached at 165° until I had an internal meat temp of 150°, chilled in ice water and then refrigerated.
In the smoker with the Kielbasa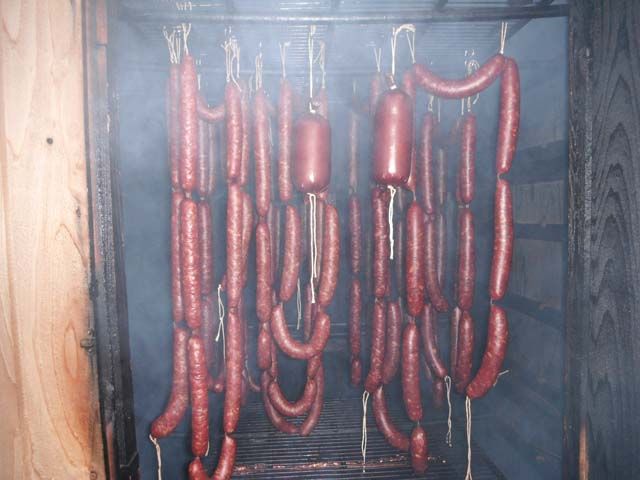 On the plate with some Elk and some Bear Kielbasa
As you can see, I lost a little of the fat in the Kielbasa-because of the bear meat I poached it to a solid 165° and it looks like some of it may have went a bit higher, but the texture is good and the flavor was great. The Salami Cotto turned out nice, I will add more peppercorns next time but other than that I am very pleased for a first go on a new recipe and the wife was very happy with it.
If anyone has any suggestions or even better a tried recipe for the Cotto Salami it would be greatly appreciated.
My thanks to all for the forum and all the great info-
Pat