Guess what, no offal in the recipe this time. This is a recipe I make often since it is so simple and tasty. Credit goes to Alton Brown (Food Network) for the original recipe. I have modified it a bit to make it easier and faster to make. (Alton's original recipe is really great and cooked on the rotisserie of your grill is very good - ][/URL]
Alton Brown's gyro recipe
Recipe:
Ground beef (chuck or 80/20) 8 lbs 3640 g
Fresh onion, chopped 11% 400 g
Garlic powder 0.53% 19.4 g
Marjoram 0.25% 9.0 g
Rosemary leaves, ground 0.40% 14.4 g
Salt 1.8% 65.5 g
Cure #1 0.265% 9.6 g
Black pepper, fine grind 0.12% 4.2 g
Butcher & Packer meat binder (phosphates) 0.55% 20.0 g
MSG 0.20% 7.3 g
Slushy ice water (the colder the better) 12.5% 455 ml
Mix ground beef with chopped onions and all spices. Do not add ice water at this time.
Depending on your food processor, add mixture so it won't bog down too much. (In my case, it's about a pound at a time). Turn processor on and then slowly add ice water (divide amount of ice water depending on amount of mixture you've added - in my case, it was about 1.75 ounces per batch):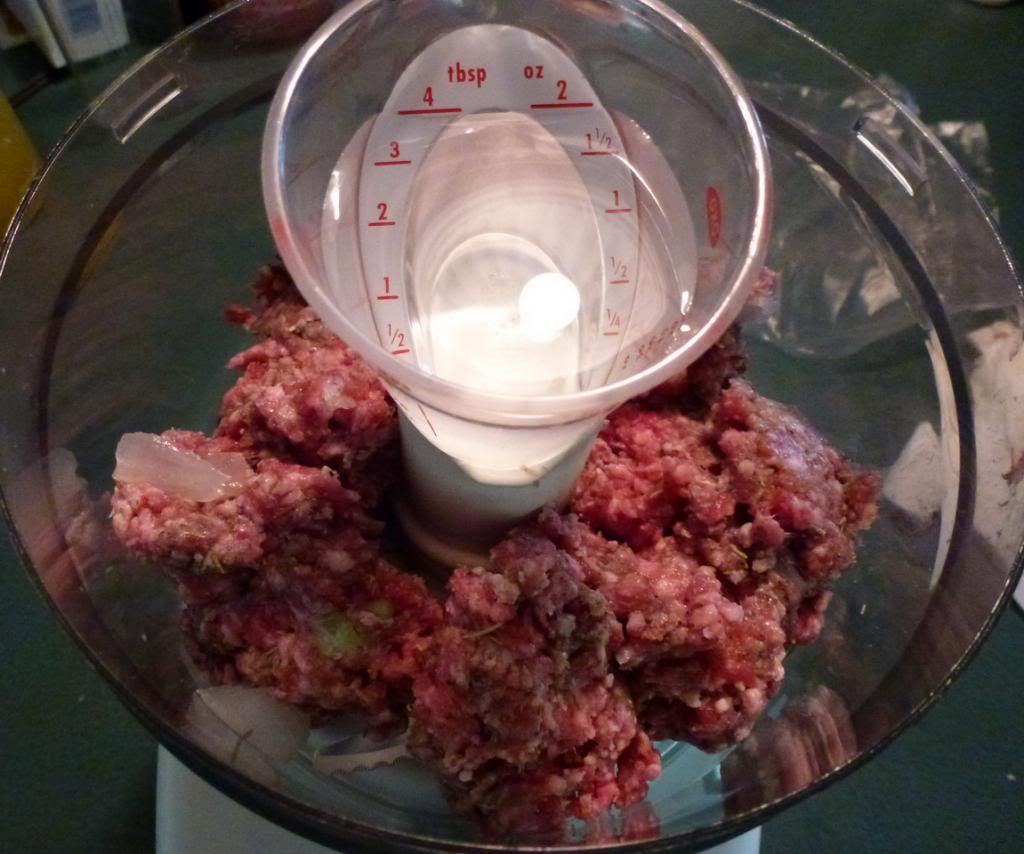 Process for 90 seconds or until mixture is emulsified and temperature does not exceed 60°F: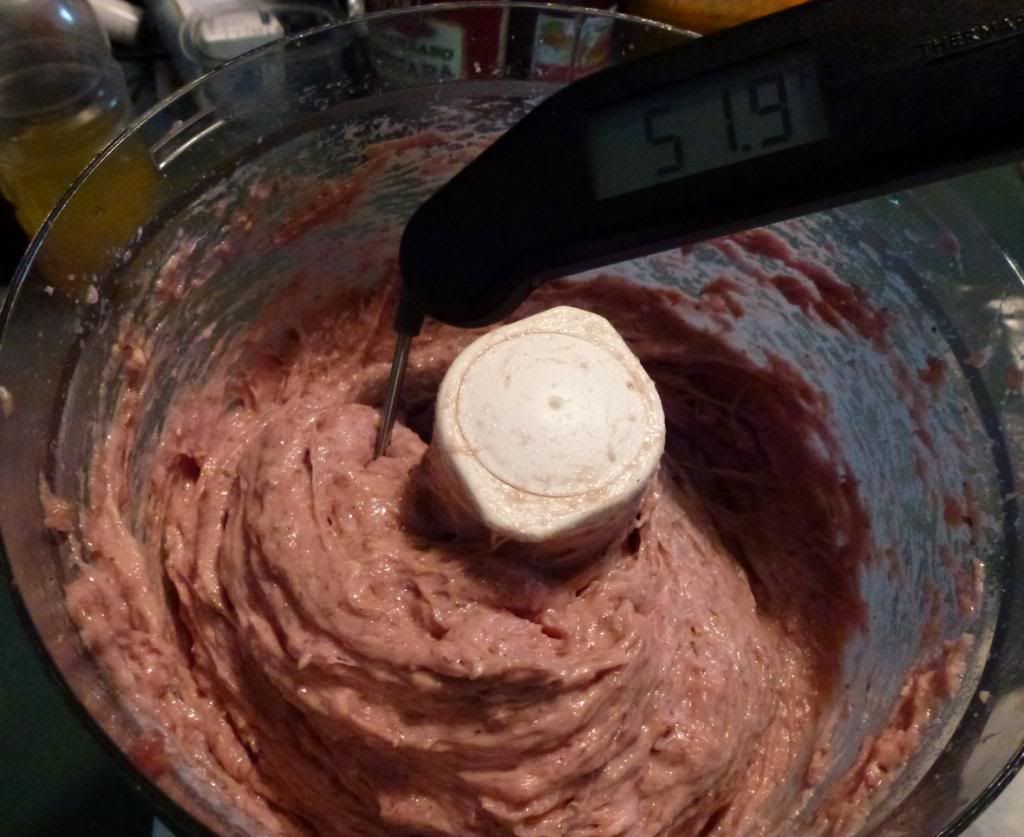 Once all meat is emulsified, stuff into whatever diameter casings you like. I used 4-3/8" diameter.
10 lbs emulsified mix: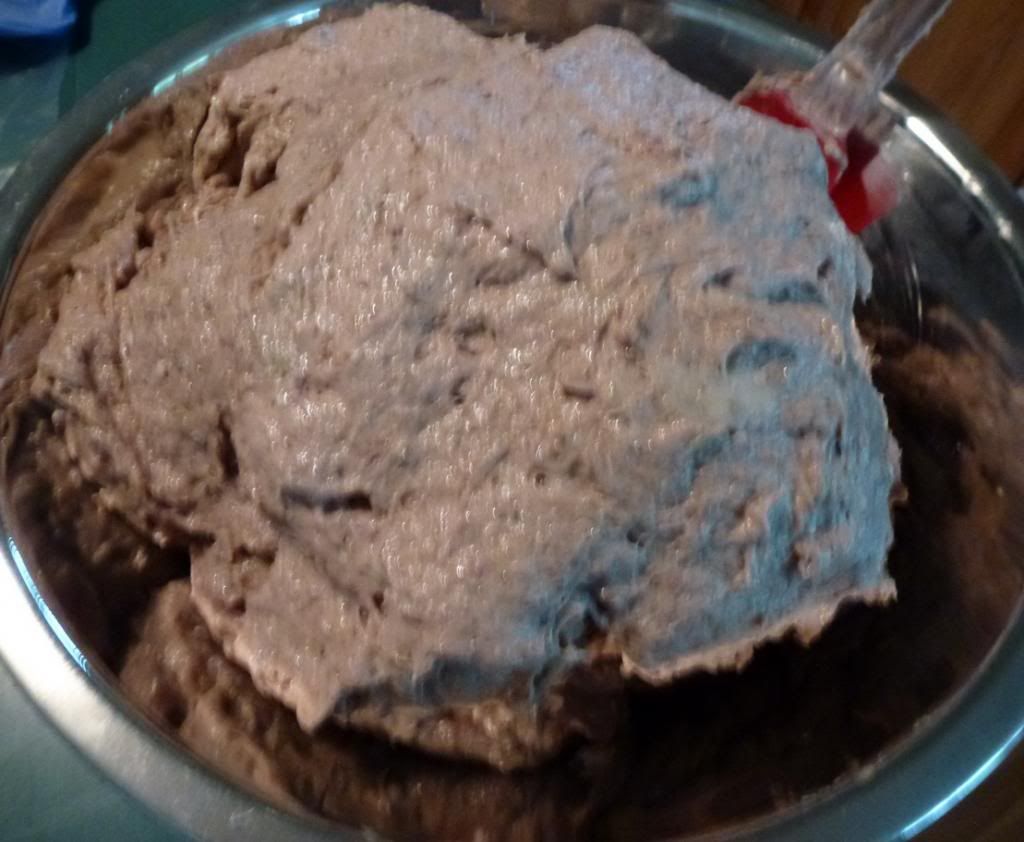 Stuffed and ready for water bath:
Place into hot water bath, keeping water temp at 160°F until internal meat temp reaches 152°F. Mine took a bit over 3 hours. Here's my hot water cooker set up (table top portable steamer with full size steam table pan controlled by Auber temperature controller.) I have the hot water set to 160 and once the IMT reaches 152, the Auber will turn power off to the steam cabinet:
Once IMT goal is reached, immediately place into ice bath until IMT cools to 100°F or less.
Allow to cool before placing in cooler overnight before slicing. I decided to smoke mine for 45 minutes with pecan just to give it a hint of smoke but I think that was not needed. If you do smoke it, make sure the casing is dry.
Cooked, smoked and sliced in half:
After slicing to desired thickness, cut strips and pan fry. Add to homemade pita with Tzatziki sauce, tomato and onion: