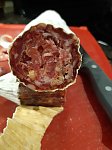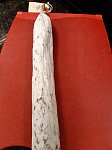 So its been over 5 weeks and the weight loss was down to 42%. I must say I thought this would have turned out a little bit better than I expected. It almost seemed as though the inside wasn't cured yet but the outside was rather hard. I don't know if it would be classified as "case hardening" cause I religously kept the chamber at 80% and 12C, except for a few days where I scaped off some of the exterior mould as well as brought the humidty down for to 70% and 8C, just to see if that would help.
The taste was certainly there, if you could get past the ammonia smell/taste
.
Throughout the process, I noticed a really, really strong ammonia smell. I was airing the chamber out a few times a day but I don't think that was enough and so the smell impregnated the meat and I'm certain it's not going to be edible. So, going forward what do I:
1. punch a few more holes into the chamber and have a regulated air intake system
2. it almost seemed as though there might have been an excess of mould on the exterior, so do I limit that, or does that matter
3. Some of the the post of cured salami seem to have a very nice packed and even inside/outside. Even though I packed mine as tight as I could and let the air out, it seems to have withered in certain areas, making it look rather unappealing
4. is the ammonia salami salvageable or coyote bait.
Thx in advance.