I made my first run of frankfurters this past weekend. I was very excited and looking forward to putting the bowl cutter through its paces. I read all that I could and was really aware of how my meat batter needed to remain really cold and when emulsified that I had an upper limit on my temp or else the emulsion would break. I paid attention to the additions of ice and even did my best to grind it into snow cone consistency. My goal was to use a bunch of pork that I had already cubed up and refroze for a sausage that unfortunately did not get made. So I lined up my beef and some venison grind that I had on hand and spent some time making the recipe, it was based off of Marianski's frankfurter recipe...here it is:
Total Meat Weight 7792 grams
Beef 27.50% 2143 grams
Venison 33.10% 2579 grams
Regular Pork Trimmings 19.10% 1488 grams
Fatty Pork Trimmings 16.60% 1293 grams
Fat 3.70% 288 grams
Salt 1.80% 140.3 grams
Cure #1 0.25% 19.5 grams
Paprika 0.20% 15.6 grams
White Pepper 0.20% 15.6 grams
Coriander 0.20% 15.6 grams
Nutmeg 0.10% 7.8 grams
Water 15.00% 1168.8 ml
Things went down from there...as I was running each of the meats separately through the 1/8 inch plate and putting them in the freezer it occurred to me that I hadn't considered whether my bowl cutter had the capacity to handle everything. You see the recipe was launched knowing I had to use 2579 g of venison and everything was dialed in from there. Well even having a Hobart 84141, 7800 g is a bit too much for about a 15 inch bowl cutter. I should have thought of this as I have done this with my mash tun when brewing once or twice. Shame on me but I'll figure it out!
Well when running what meat I could fit in it, that is less then the full amount was full capacity I was tripping a 20 amp circuit so often that I decided I was done!!! Anyway I got the red meat minced and with the 1/3 dose of snow I was seeing temps of 0°C so no issues there, but it was getting so bogged down with myosin that I had to pull some of the red meat to add the pork. This went on for 20-30 min as I kept adding semifrozen meat and ice crystals, and added 10,000 steps up and down stairs to reset the breaker. But in the end I had a very fine mix, not an emulsification but a microgrind if you will. So I decided to hand mix the mass from this point and that was fun!!
I convinced myself that a hot dog could handle the extra water and threw in the last 1/3 charge of snow, but since it was really food processor smashed ice cubes I had ice chips that ranged from sleet to dice size chunks. So with this I learned that now I would have huge pockets in my hotdogs that once carried an ice chunk. And I was able to enjoy the freezing of my sheep casings onto the sausage horn due to the ice chunks. Let's just say it was a long and frustrating day. This happened even though I was picking out the bigger chunks prior to adding the mass to the stuffer.
In the end, I think that I will go with 5lb batches until I dial in the recipe. But I know that I can keep my bowl cutter and the sausage mass temps where I need them with the ice charge. Also I think I will ensure that I continue to emulsify until I reach the upper limit...I think Redzed has a temp of 7°C but I would double check it. I would go to this temp to ensure my sheep casing peeled off the tube efficiently with less tearing, blow outs, and all ice incorporated.
But wait it's not over...
The next day, after a night resting in the refrigerator, it was time to smoke things, but alas I pushed the limits of the smoker too. A lot of the hotdogs were not able to get smoke and some heated up too much...oh well, better luck next time. Also i think I would go with a cold smoke and alot of rotation to ensure even coverage. Learned alot and have some mighty fine tasting hot doggyish sausages. Not proud but assume my learning curve was very steep.
Once off the smoker they went into a hot water bath of 160-165°F for 30 min. Here they are out of the bath...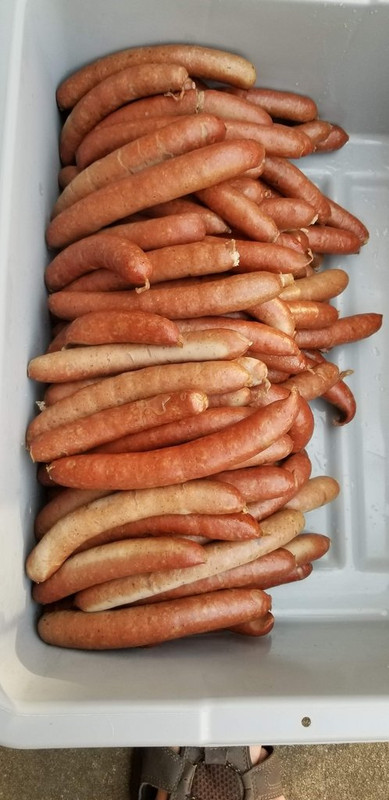 you can see a lot of areas that are missing smoke and maybe even some overheated areas. Here they are packaged up, in this pic they actually don't look half bad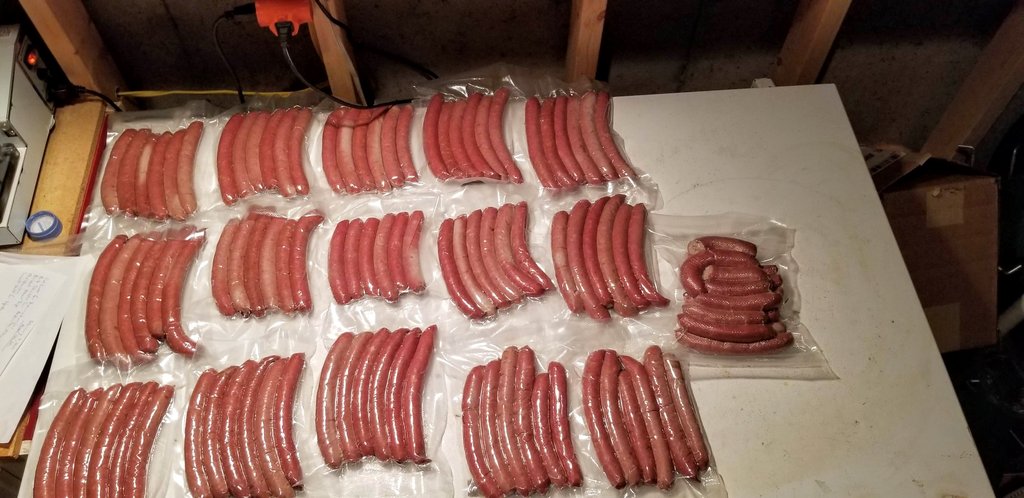 the broken and short links are all in the pack on the right destined for franks and beans or some other fate.
Live and Learn I say but for one ray of hope I had a better run with my bratwurst that I made on Good Friday...delicious lunch at least during Saturday's frankfurter fiasco along with the classic...an Old Milwaukee